20 Aug 2021
#connectyourworld Excelerate Technology Connect Your World at this year's Emergency Services Show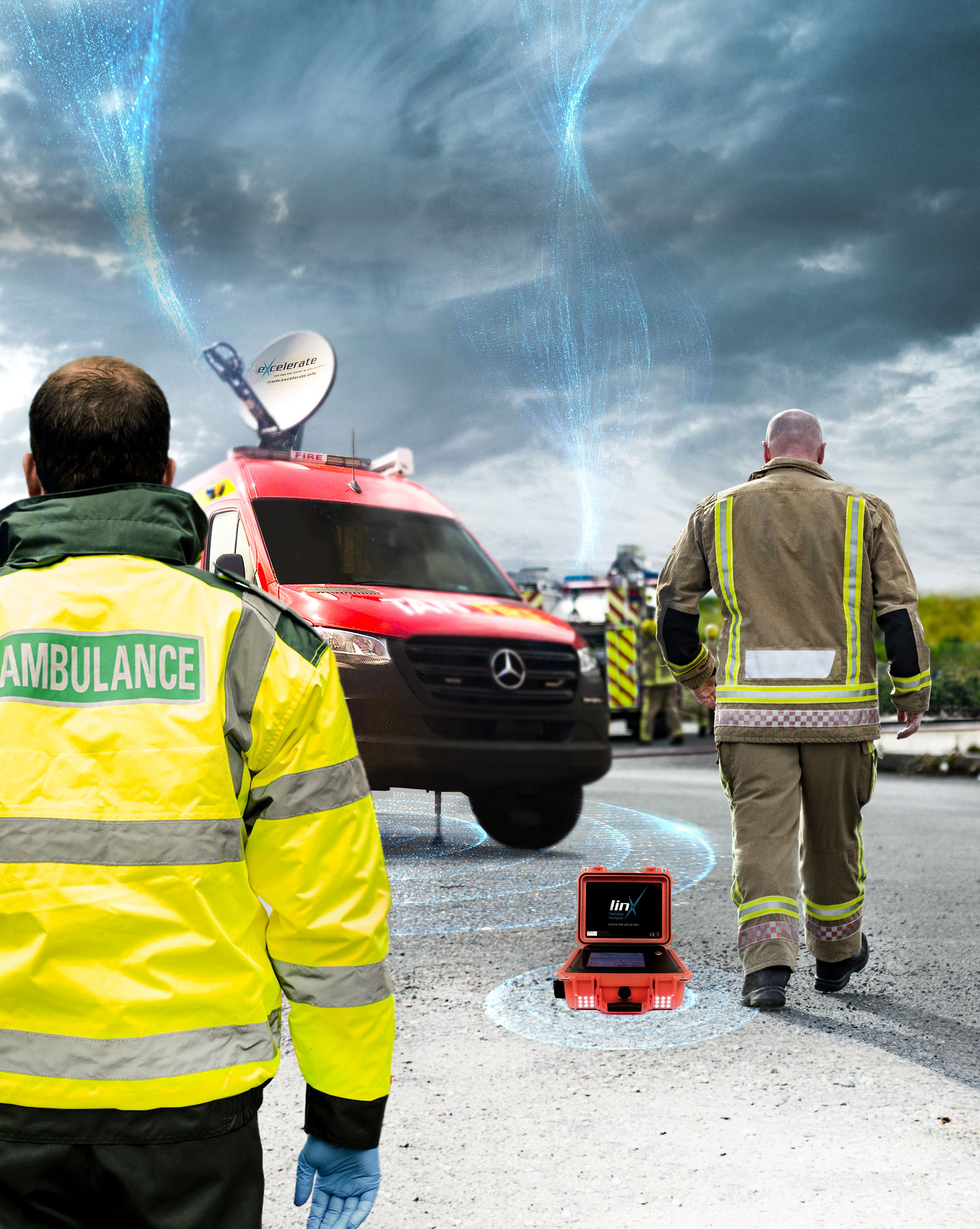 Excelerate Technology, a leading technology partner to the UK and global emergency services, is celebrating its 20-year anniversary. Inviting visitors to this year's Emergency Services Show at the NEC, September 7 – 8.
Visitors are being invited onto stand (M71) to attend collaborative theatre sessions, live demonstrations, and engage with the World's leading Digital Transformations Use Cases across a diverse portfolio of connected emergency response environments.
David Savage, founder and CEO of Excelerate Technology, said: "The Emergency Services Show is a key date in the calendar and it's great to be back again.
"Enabling always-on connectivity, regardless of location and whether in transit or on foot, is critical for emergency services personnel and healthcare professionals to collaborate and do their jobs effectively. Through hybrid connectivity, this can be achieved to the benefit of those on the incident ground, at major events and of course the public in general.
"Everything we do is about connecting people and teams within their operational environment, which should never be constrained just because infrastructure is compromised or because 4G or 5G are not accessible. These days, the ability to connect, live stream video and share critical data should be a given, which is why we collaborate with partners and customers to ensure requirements not previously met, are now in operation and being used successfully."
Join Excelerate Technology in theatre sessions
Emerging Technology
#Connect Your World- Enabling Digital Transformation and Integrated Care Pathways across Healthcare. September 7, 13:45 – 14:15
A panel session exploring the emerging technology aiming to benefit patients within healthcare systems by connecting medical teams and care professionals to the technology, applications, and solutions needed to provide an integrated approach to improve patient care and outcomes, reducing the number of people needing to go to hospital.
Joining the panel of experts:
John Vesey, head of health, wellbeing, and emergency services - Satellite Applications Catapult
Simon Hill, technical director - Excelerate Group
Adrian Smith, head of digital transformation - NHS Arden & Greater East Midlands Commissioning Support Unit
David Davis, Experienced Paramedic, Visionable
Nigel Harley, HEMS Paramedic at University Hospital Southampton NHS Foundation Trust
Vehicle Innovation Theatre
Connecting Your Response -The Driving Force Behind Digital Transformation Projects, Enabling Operational Decisions, Interoperability and Real time Situational Awareness. September 7, 11:30 – 12:00
The UK and Global first responder sectors are facing unprecedented pressures to implement lessons learned and recommendations at a local and national level. The need to collate, analyse and share accurate, reliable and near real time information with incident commanders, strategic coordination groups and supporting agencies has never been more vital.
The requirement for reliable communications, situational awareness, and emerging technologies, such as drones, body worn cameras and dynamic incident management platforms are growing, therefore digital adoption is becoming a prerequisite to improving public safety, response and decision making. 
Joining the panel of experts:
Mark Palmer, replacement incident command capability - project manager at Hampshire & Isle of Wight Fire & Rescue Service
Nicola Savage, group marketing director - Excelerate Group.
Simon Hill, technical director – Excelerate Group
Steve McLinden MAPD GIFireE - former transformation programme lead and operational group manager for Mid and West Wales Fire and Rescue service; new role account executive with Unblur.
Neil Sadler - Group Commander, Joint Operations Team, Northamptonshire Fire & Rescue Service
Neil King, Technical and Operational Support Officer, Joint Operations Team, Northamptonshire Fire & Rescue
John Vesey, head of health, wellbeing, and emergency services - Satellite Applications Catapult
Meet with Excelerate's Collaborative Network and partners on stand M71, including:
Unblur - a non-exclusive partnership that marries market-leading communications infrastructure and an intelligent platform to revolutionise safety, situational awareness, communications, and incident response for UK emergency services.
Visionable - A collaboration partnership that delivers a Connected Emergency Services solution that enables specialists to rapidly assess and treat patients in an informed way either remotely or at the scene of an incident. Its virtual integrated system brings together multiple video feeds, vital patient data and stats at the same time, in one simple view without losing any native quality. The solution supports rapid collaborative decision making, faster triage and treatment through observation data and body-worn technology and facilitates a reduction in avoidable conveyances to hospital.
Find out what Excelerate is doing with the ambulance, fire, and police services at home and abroad
Visit Excelerate on stand M71, and witness first-hand how innovation and collaboration are making a real difference to emergency services stakeholders. Find out how a requirement from Mid and West Wales Fire and Rescue Service to vastly improve situational awareness and be able to reliably track personnel – including location within a building or when deployed at a whole host of incidents – from industrial and forest fires through to water rescue operations, led to the development of Excelerate's Linx Hub, a portable WIFI hotspot.
Learn how another of Excelerate's customers, Qatar's Health and Ambulance Service, Hamad Medical, is leading the world in placing connectivity at the heart of its digital transformation strategy, enabling the best use of current and future technologies to improve command and control, situational awareness, and ultimately patient care.
Hamad Medical's 220-strong fleet of smart ambulances and command vehicles features robust connectivity and the ability to support paramedics across a variety of operational deployments. This will include the World Cup 2022 in Qatar.
We explain how Excelerate is supporting a growing number of police forces across the UK to provide real time body worn and UAV streaming solutions and connected vehicles such as operational support units and CCTV vans in addition to mobile deployable connectivity hubs. These range from portable WIFI hotspots, such as the Linx Hub, through to Private 4G/5G hubs which do not rely on terrestrial infrastructure.
It's becoming ever more crucial that operational police teams have the flexibility to deploy anywhere from a field (where limited or no communications exist) or at public events where congestion of the cellular networks can often impact operations. This is why Excelerate is increasingly supporting major events, such as G7 and the NATO Summit where connectivity infrastructures are designed to keep the public and operational personal safe. Find out more about how the company works with the likes of Thames Valley Police, Gwent Police, and Police Scotland to ensure they have the products and solutions to enable failsafe communication of data, including voice and live video.
Learn more about Use Cases and role of technology in World Leading Digital Transformation Projects
Through collaboration, Excelerate is involved with some innovative and exciting projects, including:
5G RuralDorset – Improving the safety of the public and aiding coastguards, ambulance teams and first responders through a multi-million-pound government funded project to improve public safety across the Dorset Coast.
Lulworth First Responders - volunteers with South Western Ambulance Service NHS Foundation Trust (SWASFT) – to help them overcome challenges in connectivity and benefit from 5G capabilities to support response to patients.
ITS Equant – A £1.2 million venture, from the European Space Agency, and in partnership with Valerann to enable roads to leverage space technologies to make them safer, more efficient, and ready to support autonomous vehicles.
Trusted Bytes – The two-year, £2.8M funded project – 'Trusted Bytes' – will help to aid compliance and provide real-time ubiquitous digital connectivity between the supply chain and central government at a critical time where we witness Brexit-related port disruption. Excelerate will provide a robust communications framework as part of a consortium funded by Innovate UK, enabling greater and safer communication and connectivity, and increase efficiencies between stakeholders across borders and within the food supply chain.