19 Jul 2023
Driving digital transformation on the frontline: Microsoft launches Partner Pavilion at The Emergency Tech Show showcasing Next-Gen Tech for the blue light sector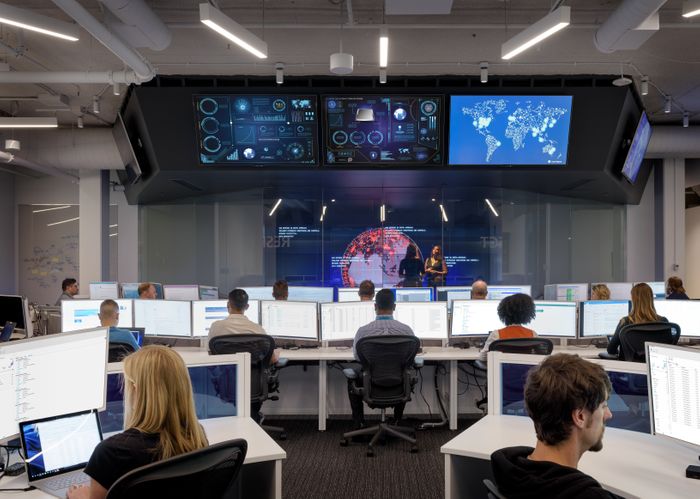 Birmingham UK, July 2023 – Microsoft, a global leader in technology solutions, is proud to announce the launch of its Partner Pavilion at The Emergency Tech Show, which takes place at the NEC, Birmingham from 19-20 September 2023, alongside the award-winning Emergency Services Show. The Microsoft Partner Pavilion will serve as a central hub for Microsoft and its Partners to showcase a wide range of digital solutions specifically designed to empower first responders and drive the digital transformation of the emergency services sector. This project is driven and led by Parm Singh, Senior Business Applications Executive for Public Safety who has over 20 years industry experience working in and with Policing delivering a number of transformational projects with partners.
The Microsoft Partner Pavilion brings together leading technology companies, system integrators, and solution providers who, as Microsoft Partners, have developed ground-breaking technologies to improve the efficiency and effectiveness of first responders. This collaborative effort highlights the collective impact of the technology ecosystem in supporting communication during emergency response efforts and advancing public safety. Recognising the critical role that advanced solutions play in emergency situations, Microsoft has pioneered a comprehensive suite of tools and services in collaboration with its Partners. These solutions enable first responders to leverage the power of the cloud, artificial intelligence, and data analytics to improve communication, streamline operations, and ultimately save lives.
Microsoft Partners already confirmed in the Pavilion include Kainos, Hitachi, Velrada, Node 4, HSO, CPS, Insight, Kin & Carta, Simpson Associates, Symity, and Altia.
In addition to the technology showcase, the Pavilion will feature an exclusive content theatre covering a range of themed topics covering safeguarding, intelligent insights and empowering front line officers, providing educational resources and insights into the contributions made by Microsoft and its partners.
Attendees will have the opportunity to experience firsthand the transformative power of technology through interactive demonstrations and immersive showcases. Microsoft's Partners will highlight a suite of applications and services leveraging Dynamics 365, Power Platform, Office 365, Copilot and much more. These offerings provide real-time insights, data-driven decision-making capabilities, and seamless collaboration tools to enhance emergency response operations.
"We are thrilled to launch the Partner Pavilion at the Emergency Tech Show, where we can showcase the immense potential of technology in revolutionising emergency response," said Natalie Farr, Public Safety and Justice Manager at Microsoft. "Through collaboration with our partners, we aim to drive the digital transformation of the emergency services sector as a trusted advisor, empowering first responders with the tools and insights they need to save lives and protect communities."
Microsoft's partnership with The Emergency Tech Show underscores the company's commitment to supporting the emergency services and advancing the critical work performed by first responders.
To learn more about Microsoft's Partner Pavilion and explore the innovative solutions on display, visit the Microsoft Partner Pavilion at The Emergency Tech Show, taking place on 19-20 September 2023 at NEC Birmingham.
About Microsoft
Microsoft is a long standing, trusted partner to Public Safety and Justice organisations in the UK. Our technology helps teams make better data-informed decisions and deliver trusted outcomes that increase safety, accountability and transparency within communities. Microsoft has been working with emergency response agencies around the world as they seek to adopt new technology to empower their teams, improve operations, and protect their communities. In the UK we've supported numerous critical programmes such as Office 365 across Policing in true collaboration nationally, regionally and locally, Azure infrastructure with Digital Forensics, Dynamics 365 Contact Centre & case management systems, Power Platform with hugely successful National Solutions Catalogue hosted by PDS and more. UK Policing is seen as a world leader and we intend to continue on this journey as a trusted advisor to Public Safety and Justice organisations with exciting advances in Generative AI, Viva and Copilot offerings across the tech stack.
About Emergency Tech Show
The Emergency Tech Show is a new event that launches alongside the award-winning The Emergency Services Show, showcasing the latest emerging technologies and innovations that are transforming the emergency services sector. The Emergency Tech Show serves as a platform for collaboration, connection, and knowledge exchange among tech innovators, industry professionals, and decision-makers. It provides a unique opportunity to explore cutting-edge solutions and trends that are reshaping public safety and emergency response. By bringing together key stakeholders in the field, the show aims to facilitate discussions and foster partnerships that drive the adoption of resilient and effective technologies across the sector.