24 Aug 2022
Fast Inflation Shelter Series: 'Pop Up' Medical Tents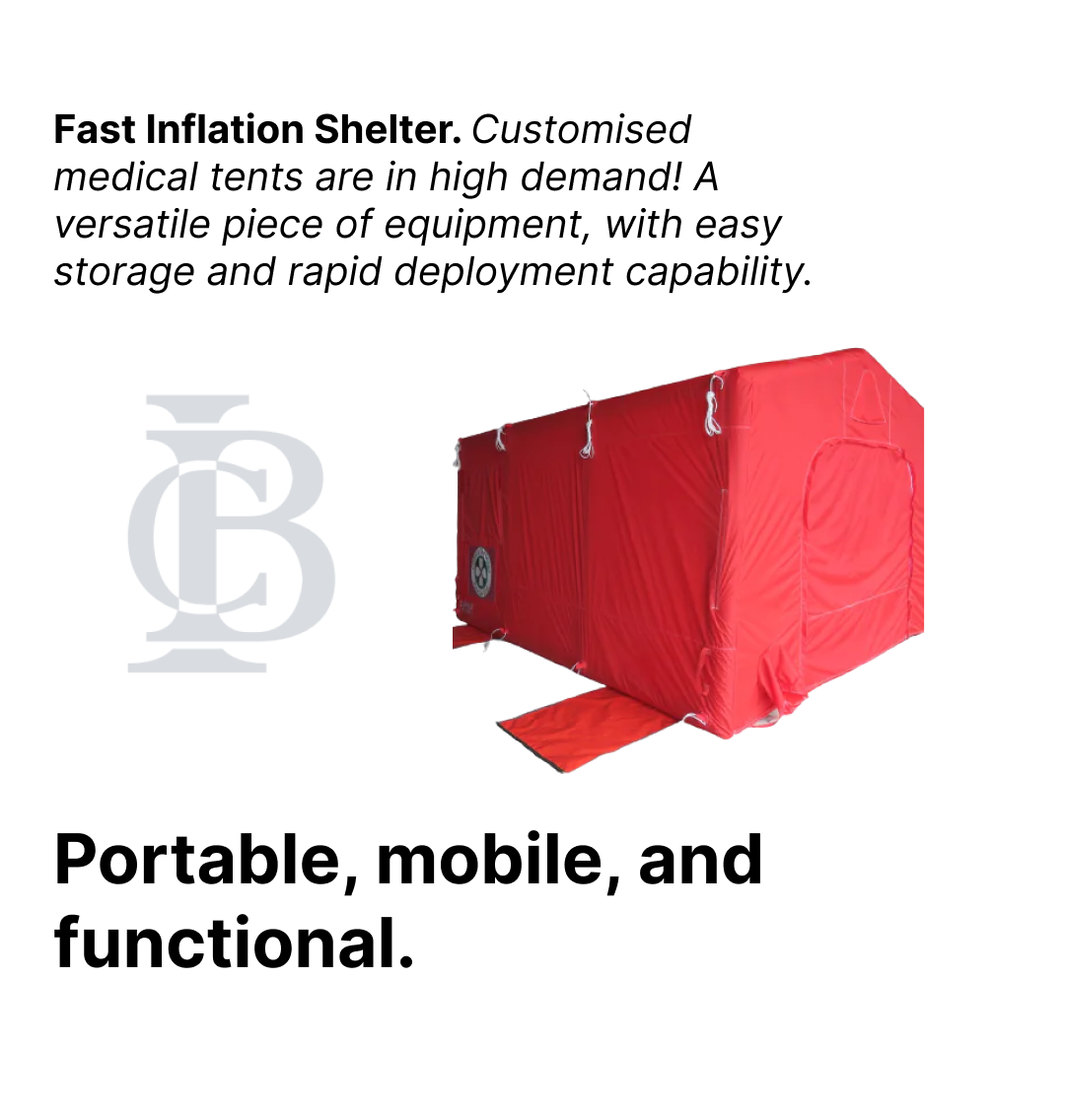 Fast Inflation Emergency Air Shelters for rapid deployment - Browse the full range of inflatable tents, with accessories available!
Fast Inflation Shelters: 'Must Have' Medical & First Aid Equipment?
I.C. Brindle & Co. Ltd - Medical & First Aid Emergency Shelters:
Our ICB Inflatable Emergency Shelters and medical tents (provided with lighting, heating, room dividers and additional windows on request) are an indispensable piece of equipment for all front line medical personal due to the versatility and rapid deployment features (such as fast inflation time), compact storage size, and low weight.
These inflation shelters function as rapid-response medical tents, creating a workspace — like a temporary hospital ward — where medical professionals have enough room to preform standardised medical procedures, providing the correct treatment for people with illness, injury, or disease, during sudden emergency situations, they can also be adapted for integration with medical response vehicles and can act as a barrier to keep the public eye away from delicate situations.
The versatility of our shelters is especially important to us with each of our shelters being made to order, offering the buyer such a bespoke service enables us to make sure this vital piece of equipment is perfectly suited to the situation it will be intended for.
Bespoke service is expensive right?
Doesn't have to be! In fact, we offer some of the industry's most cost effective inflatable air shelters, complete with small design changes like window position, door sizes, and shelter colour options — all with no additional costs!
A large full size front door which is removable, allows ambulances to utilise the shelter as additional working space as well as giving access to stretchers, wheelchairs or large pieces of life-saving equipment.
The Medical & First Aid Shelters are provided with the following additonal features:
110 volt or lithium-Ion rechargeable lighting
Compact 230v or 110v Fan heater with thermostat
Stainless Steel 'D' Rings to the central beam to allow for accessories or medical equipment to be suspended
1 x Lateral, removable, room divider
2 x Oversized windows with fly mesh and covers to allow for increase light
1 x Large full front door to allow for an ambulance to utilise the shelter and access for stretchers and wheel chairs
1 x Pedestrian door
Large Vehicle flaps on the corner of the shelter to allow additional stability in adverse weather or to secure the shelter in areas where pegs and guy ropes cannot be used
Despite it's compact, easy storage and rapid deployment capability - the air shelter provides adequaet space for base of operations. Useful for medical staff, specialised equipment, and patient care.
Case Study: Medical Tents During Covid 19
The Covid 19 pandemic saw the need for medical & first Aid shelters across the world. Used by medical staff, these ad-hoc hospital wards became vital provisional spaces for fighting back against the virus. These shelters helped provide rapid-response set-ups for healthcare organisations, and humanitarian response to preform effective treatment on patients, particularly in situations where funding was scarce or facilities were unavailable!
Utilising these emergency shelters as 'pop-up clinics' ensured a quick (and cost-effective way) to distribute vaccinations too. Providing local populations more opportunity to receive their first, second or booster vaccinations.

Functional. Portable. Mobile.
It is in these aformentioned instances that portable medical tents shine their advantages through their versatile application and utility! When preparation time is short, and medical demand is suddenly high — having a fast-inflation tent at you or your team's disposal not only gives you functionality, portability and mobility - but the ability to accommodate for large numbers of people. Providing both medical and sheltering services to those who need it most.
Our ICB Medical & First Aid shelters are currently in use across the U.K and Europe and have been used throughout the Covid 19 pandemic by medical teams and doctors' surgeries as both pop-up vaccination centres and treatment rooms.