08 Aug 2022
IDEX To Showcase SAMFlows at ESS, NEC Birmingham Following Successful Launch and Great Interest at Interschutz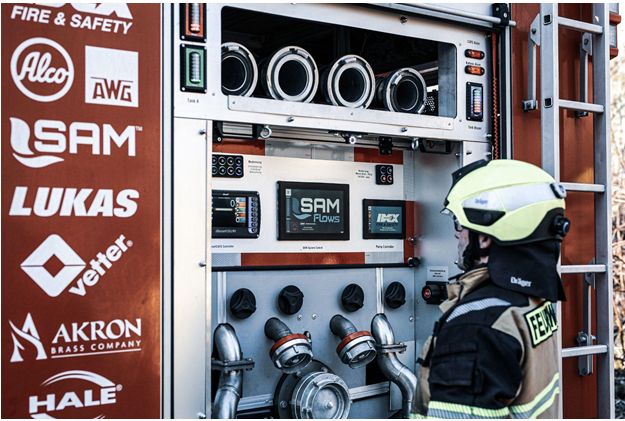 IDEX Fire & Safety presents SAMFlows for the first time at the Emergency Services Show in Birmingham, UK. A sophisticated total waterflow control system that manages all critical aspects of a fire engine's pump, tank, inlets and discharges, after a successful launch at the INTERSCHUTZ trade fair in June.
Recognising the challenges that crews face on the fireground, SAMFlows was developed to improve the safety, speed and efficiency of pump operations. The automated system ensures immediate availability of water at the right pressure with seamless transition from tank supply to hydrant or draft whilst protecting against hazardous threats including pressure spikes, water hammer and cavitation.
With SAMFlows continuously monitoring and managing pump operations, the pump operator can be freed up to focus on their crew and the fire-scene and carry out other critical tasks. Without having to constantly monitor and adjust the pump, fireground operations can be transformed.
The system is controlled via an intuitive and user-friendly 10" touchscreen display Control Centre, with additional functions provided by a second touchscreen Pump Controller.
IDEX continues to build on this automated flow control system, with the introduction of the SAM Smart Nozzle. This product ensures that the rated pressure and flow is maintained at the nozzle, eliminating the need for any calculations or guesswork at the pump end. The Smart Nozzle also allows the line operator to charge their own line at the nozzle and displays water availability and source, allowing them to attack fires with confidence.
SAMFlows was showcased at INTERSCHUTZ in June. Being the largest global trade fair for the industry providing the perfect platform with over 1,500 exhibitors and 50+ nations attending, it was the perfect opportunity to demonstrate and promote the product and was received with great interest – Demonstrations, presentations and talks were delivered by global experts.
Guy Jackson, Director of Global Waterflow Technology at IDEX, commented: "IDEX Fire & Safety is committed to delivering the world's most reliable fire, safety and rescue equipment.
"The innovative technology encapsulated in SAMFlows reflects this by transforming pump operations from being a complex job to being safe, simple, reliable, fast and efficient."
IDEX Fire & Security
IDEX Fire & Safety brings trusted brands together to deliver innovation in both customer experience and integrated solutions that revolutionise performance and technology to make the fireground and rescue scene safer.
Our brands include Akron Brass, AWG, Class 1, Dinglee, Hale, HURST Jaws of Life®, Godiva, SAMFlows, Lukas, Vetter and Weldon. The IDEX Fire & Safety brands represent business units of IDEX Corporation [NYSE: IEX], an applied solutions company specialising in fluid and metering technologies; health and science technologies; and fire, safety and other diversified products.
Contact
For further information, please contact:
Guy Jackson, Director of Global Waterflow Technology
gjackson@idexcorp.com
www.samflows.com
https://samflows.rfstaging.co.uk/