Infinity NV6 Directional Launch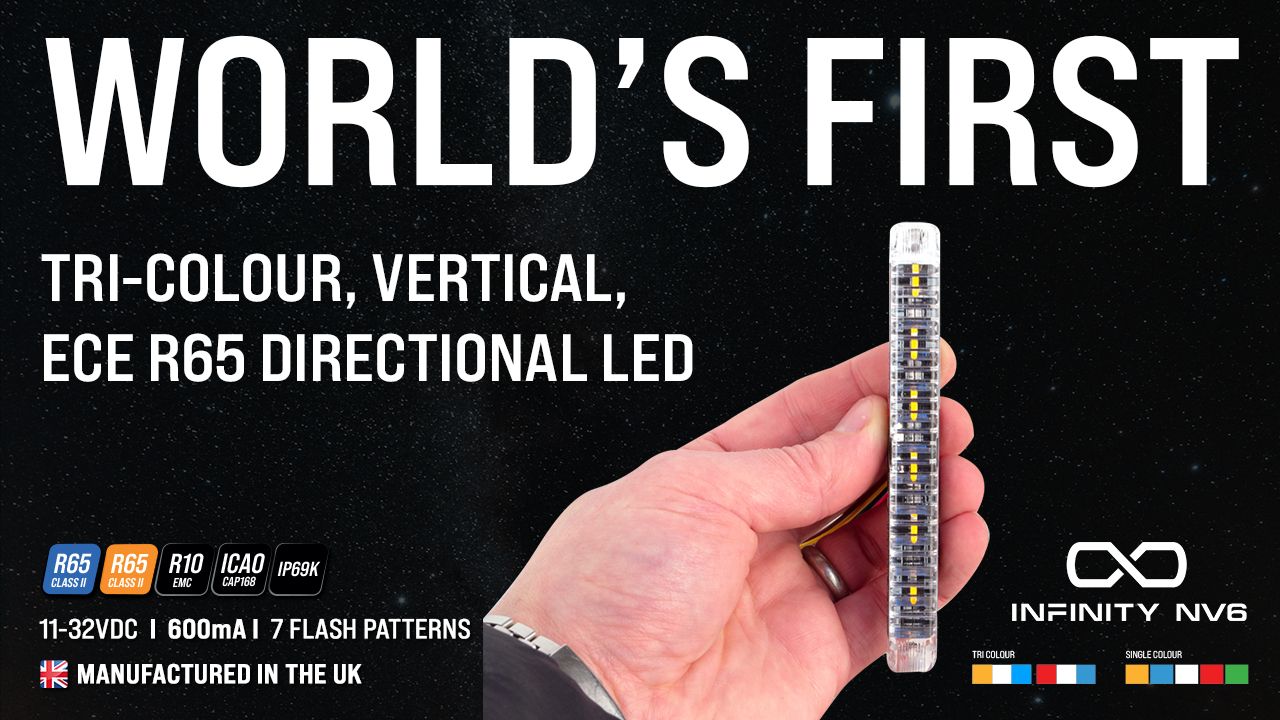 Redtronic Launches the NEW Vertical Infinity NV6
Redtronic are further enhancing the popular Infinity range with the launch of the NV6 directional LED. The Infinity NV6 is an extremely slim, versatile and discrete warning device intended for vertical mount applications. It is available in single and tri-colour options and is predominately designed for modern emergency vehicle vertical grilles as well the rear door side sections of commercial vehicles. The fixing method allows the lamp to be installed without any visible screw mounts therefore making it look like an original lamp.
Key defining features include:
Ultra slim compact directional LED (120mm x 13.4mm x 13.4mm)
Ultra-bright latest generation LEDs
Unique designed wide angle intense optic
Available in single and tri-colour
Tri-colour includes white perimeter light function
R65 Class II approved (blue and amber)
EMC R10 compliant
IP69K protection against dust and water ingress
Cruise and GATSO light features available
CAP168/ICAO airport flash
Night and day (dim mode)
Includes air vent
7 flash patterns
Andy Redfern, Global Sales and Marketing Director at Redtronic highlights: "Mounting a standard horizontally approved directional lamp in a vertical position on the vehicle completely changes the distribution of light. Most of our customers are wanting to adhere to important certification standards (such as ECE R65) so they now have the additional option of the Infinity NV6 which is a vertically certified lamp. The NV6 is designed and certified in a vertical position to ensure it meets and exceeds the required light output. As the Infinity NV6 is rear mounted it makes the directional lamp appear like an OEM light and also makes theft impossible without access from the inside of the vehicle."
As with all Redtronic directional LEDs the Infinity NV6 is manufactured to the highest standards at Redtronic's manufacturing facilities in Elland, Yorkshire. Redtronic are leading the way in UK manufacturing through continuous product innovation and improvements and this sets them aside from competitors.
Redtronic's mission is to provide customers worldwide with a product and service that resolves industry and vehicle challenges. Many customers may not be aware that they are using a Redtronic product due to the fit-and-forget design, and the highest standards of quality offering a long product life as if part of the original vehicle design.