Infinity SP2 Stealth Plate Launch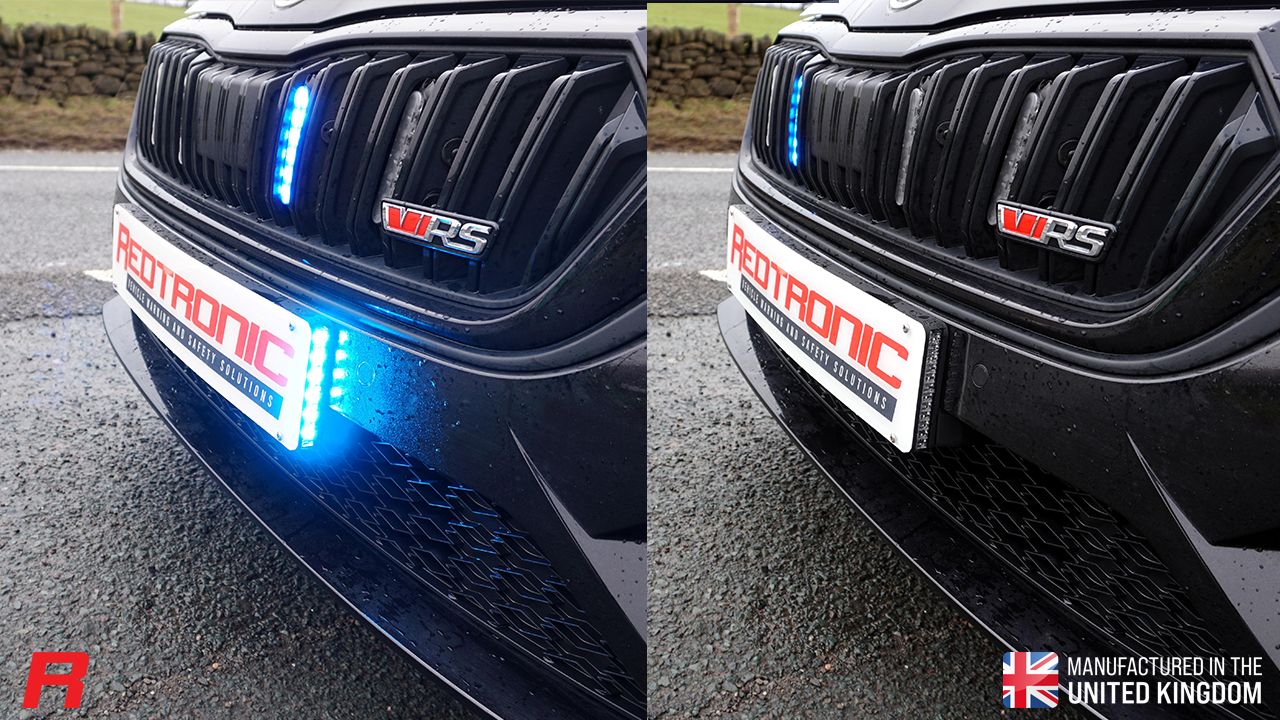 Redtronic launches the NEW Infinity SP2 Stealth Plate
Redtronic are continuously developing NEW innovative products and leading the way within the industry as a UK manufacturer. Their latest product launch sees the introduction of the Infinity SP2 Stealth Plate, the world's slimmest, flexible, innovative hybrid number plate and directional LED available in the market. It is available in single and tri-colour options and is a perfect solution for electric vehicles where grilles are no longer accessible for traditional mounted directional LEDs. The tri-colour model also includes an extremely effective work light feature.

"As electric vehicles don't have traditional vented grilles, the AA have been challenged to find suitable warning lights for our newest EV. Redtronic have designed the Infinity SP2 Stealth Plate which perfectly fits EV requirements and solves this problem. When powered, the side emitting amber light provides road users with improved warning visibility especially when vehicles are exiting a junction. I particularly like that the stealth plate is available with high intensity and highly effective forward-facing work-lamps which solves another problem." Fleet Engineer, The AA.
Redtronic designed the very first flexible stealth plate and introduced the concept to the market back in 2018 with the GECKO6 stealth plate. The Infinity SP2 exceeds all expectations and requirements for a stealth plate and is jam packed with features and benefits. Due to the position on the vehicle the Infinity SP2 benefits major industry requirements such as IP69K for the toughest environments. The directional LEDs are EMC R10 and ECE R65 approved and come as standard with 7 flash patterns. The Infinity SP2 is manufactured to the highest standards at Redtronic's manufacturing facilities in Elland, Yorkshire.

Key defining features include:
Flexible rubber registration plate assembly
Ultra-bright latest generation LEDs
Available in single and tri-colour
Tri-colour includes work light feature
Additional horizontal front facing directionals
R65 Class II approved (blue and amber)
EMC R10 compliant
IP69K protection against dust and water ingress
Cruise and GATSO light features available
CAP168/ICAO airport flash
Night and day (dim mode)
Includes air vent
7 flash patterns
The Infinity SP2 Stealth Plate is primarily designed to emit light to the side at the furthest forward position on a vehicle and particularly useful when approaching/exiting a junction. The Infinity SP2 is an all-in-one solution consisting of two vertical directional LEDs with the option to include 2 additional horizontal front facing directional LEDs mounted on top of the main assembly. Redtronic are proud of this product and have had it design registered (6178869 – 6178876) to ensure it remains a Redtronic known product for years to come.
Redtronic's mission is to provide customers worldwide with a product and service that resolves industry and vehicle challenges. Many customers may not be aware that they are using a Redtronic product due to the fit-and-forget design, and the highest standards of quality offering a long product life as if part of the original vehicle design.