16 Aug 2021
Intersurgical i-viewâ"¢ video laryngoscope, tracheal intubation and COVID-19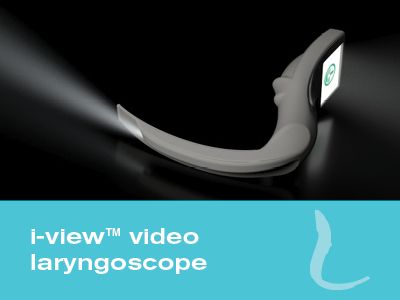 The use of the i-view™ video laryngoscope in videolaryngoscopy for tracheal intubation in the context of Coronavirus is investigated in a new blog post by our Airway Group Product Manager, David Chapman.

The article looks at the latest guidelines regarding airway management, the potential benefits of single use devices in the context of infection control and what advantages videolaryngoscopy may have to offer over direct laryngoscopy for tracheal intubation.

The i-view™ video laryngoscope is a single use, fully disposable video laryngoscope, providing the option of video laryngoscopy wherever you might need to intubate.
By incorporating a Macintosh blade, i-view can also be used for direct laryngoscopy and the technique for insertion is more familiar and instinctive than for devices with a hyper-angulated blade. Its ergonomic design ensures i-view is easy to use, and the integral LCD screen provides an optimal view in a variety of light conditions.
By combining all the advantages of a fully integrated video laryngoscope in a single use, disposable product, i-view is also ideal for use where there are concerns regarding infection control, providing a cost-effective solution that is ready to use seconds after removing from the packaging.
Visit our dedicated website page www.intersurgical.com/info/iview to view the video, download the information sheet or make an enquiry.

Access to the article can be found on the Dave Airways blog: https://daveairways.wordpress.com/2020/06/21/the-i-view-videolaryngoscopy-and-tracheal-intubation-for-patients-with-suspected-or-confirmed-covid-19/
Or through the 'Interact with us' section of the i-gel® supraglottic airway website: https://www.intersurgical.com/info/igel-interact