05 Aug 2021
Poly Rove Wireless DECT IP Handset with Microban Anti-Microbial Coating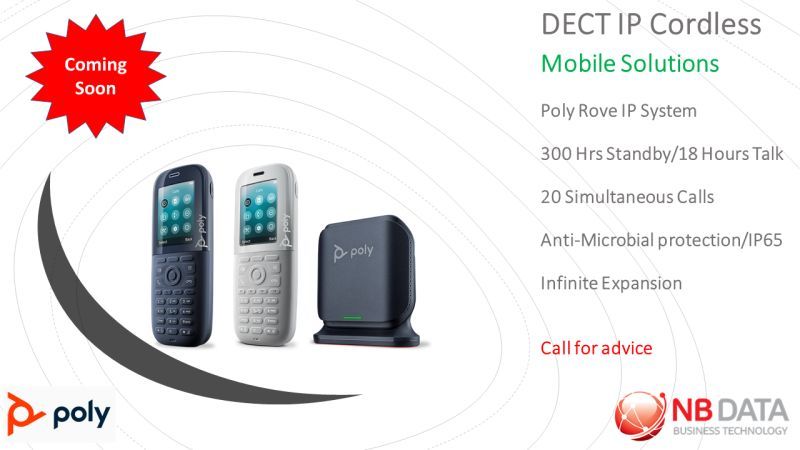 NB Data- New Office solutions
New Microban™ DECT wireless phone system: What it Means for Safety & Flexibility
Now more than ever in the working environment we need to be free from wires and limit physical contact as much as possible whilst still being contactable. Not only does this help prevent the spread of germs, but it allows more effective and efficient working practices. If you need a new phone solution that provides security, protection and almost limitless expansion, NB Data have the solution with the Poly Rove range.
Designed with on-site employees in mind, Poly Rove wireless IP phones offer the freedom to move throughout a building without comprising the quality of the call thanks to Poly's encrypted base and repeater units. The most secure standard of DECT technology guards your calls and keeps the most private of conversations between you and the other caller.
What's more, it's been manufactured with Microban™ antimicrobial coating so you can stay protected against the growth of bacteria and viruses such as Covid-19. Handsets are drop proof up to 6.6 ft/2 m and IP65 dust-tight and water resistant too.
NB Data is a Registered Poly Partner and can offer support on the Rove and an extensive range of headsets, IP phones, Microsoft teams and Zoom meeting solutions and more via our in house Brand Manager.
For more information on the Poly Rove visit https://www.nbdata.co.uk/brands/poly.php#Poly14 or call NB Data on 0161 7672540
NB Data Ltd, Unit 6, Park Seventeen, Whitefield, M45 7FJ sales@nbdata.co.uk