01 Aug 2022
Repose Companion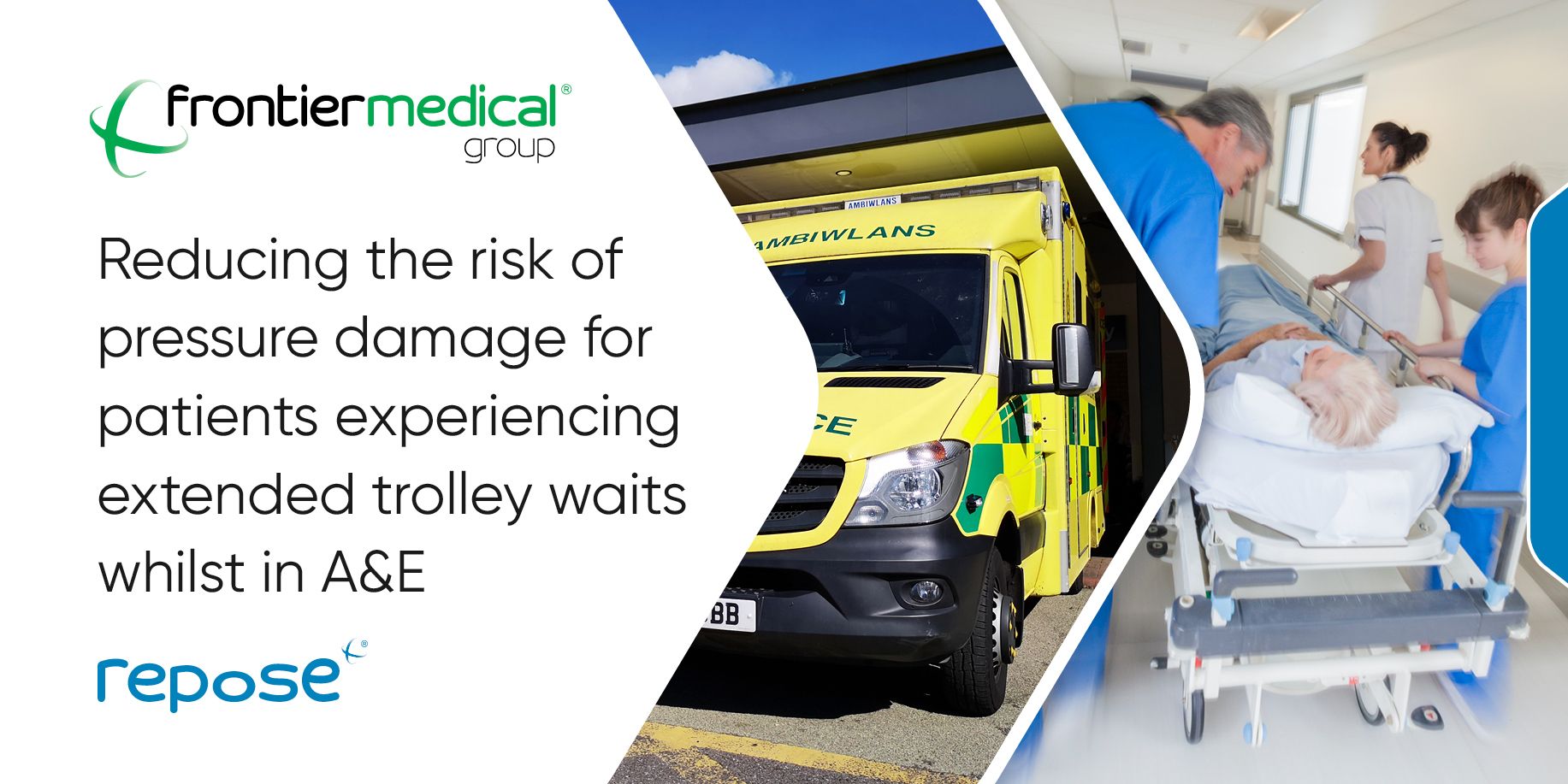 Reducing the risk of pressure damage for patients experiencing extended trolley waits
Frontier Medical Group (Frontier), understand the pressures that the NHS has experienced, and continues to encounter daily during the current COVID-19 Pandemic, and upcoming winter pressure period.
Frontier believes, its therapeutic range of clinically effective, pressure redistributing products, will help relieve those pressures, and support individual patient needs.
In April 2018, NHS England published daily situation reports on winter pressures facing acute hospital trusts. The situation report covered the pressures on the NHS, and the level of time patients were waiting in A&E departments.
The report showed that 22.8% of patients at England's emergency departments (type 1 A&E), spent longer than 4 hours in A&E between December and February. This compares with 22.9% in winter 2017/18, 21% in winter 2016/17, and 16% in winter 2015/16.1
In total, there were 214,000 over four our delays, between December 2018 and February 2019. Some areas of the NHS experienced exceptionally high demand, with waiting times of 12 hours for 0.7% of attendances, between December 2018, and February 2019.4
According to NHS England, the total number of attendances in March 2020 was 1,531,100, a decrease of 29.4% on the same month last year. Of these attendances at type 1, A&E departments were 26.3% lower when compared with March 2019, and at type 3 departments were 34.7% lower.
The above figures, are the lowest number of attendances reported, and are suggested to likely be a result of the COVID-19 response.
Responding to the latest monthly combined performance data, from NHS England and Improvement. NHS Providers director of policy and strategy, Miriam Deakin said:
"Although activity is still significantly lower than the same time last year, each month hospitals are seeing more people attend emergency departments, carrying out more routine operations, starting more cancer treatments, and conducting more diagnostic tests.
Demand is also increasing. In June, the number of GP urgent referrals for a suspected cancer, jumped up by 44% and the number of people being referred to mental health services increased by a fifth. These figures mirror the concerns of 61% of mental health trust leaders, who told us in our first survey since the pandemic, that they are seeing increased demand for urgent or crisis care."
Therefore, If a second surge in COVID-19 infections combines with winter flu, usual winter pressures and with the backlog of care that has built up over the course of the pandemic, then it's likely that the NHS will face an extremely challenging period this winter.
Pressure ulcers can often develop gradually, but can sometimes form within a few hours.2 It is crucial to provide patients from at risk, to very high risk, with the correct pressure redistributing equipment, to help the prevention and management of pressure ulcers.
Repose Companion and Repose Trolley Companion, provide an affordable solution to busy emergency departments. Providing effective pressure redistribution, safer lateral transfers, and additional patient comfort for existing A&E trolleys. Repose Companion is suitable for use in both acute and community settings, and is designed to stay with the patient throughout their journey.
To learn more please visit our team on stand number D86.
https://youtu.be/v2IaaZVgmcc