09 Aug 2022
What's new from Weinmann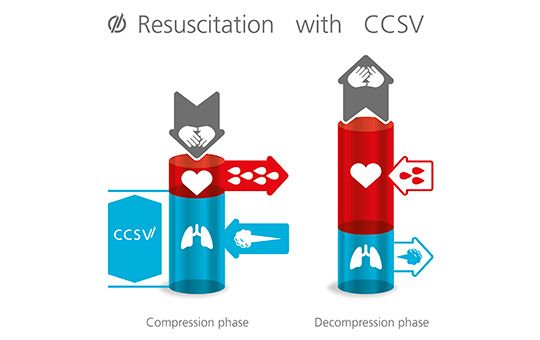 CCSV - Chest Compression Synchronised Ventilation
The most recent innovation in transport ventilation from Weinmann is CCSV (Chest Compression Synchronised Ventilation) mode, which can be easily integrated in the MEDUMAT Standard² ventilator.
CCSV - Chest Compression Synchronised Ventilation
In the case of cardiac arrest, every minute counts – life-sustaining measures such as chest compressions must take place as quickly as possible. Weinmann's innovative Chest Compression Synchronised Ventilation (CCSV) technology compliments chest compressions by utilising the lungs to support resuscitation attempts throughout CPR. CCSV allows the heart and lungs to work together, resulting in increased arterial blood pressure, improved oxygenation and decarboxylation, and helping achieve normal levels of pH.
Until now chest compressions and ventilation during resuscitation were considered completely separately. However, every chest compression affects the volume of the lungs. During conventional chest compressions, the heart and the pulmonary vessels in the thorax are compressed, which also results in air escaping from the lungs, causing a decrease in the intrathoracic pressure.
During resuscitation under CCSV, the thorax supports the heart as a mechanical breath is delivered synchronously with each chest compression. The result is an increased intrathoracic pressure as the gas volume and pressure remains in the lungs to provide support during the chest compression. The decompression phase switches to expiration and air escapes from the lungs. At the same time, the intrathoracic pressure decreases and the venous return flow to the heart can occur without any obstruction.
Key parameters can be seen on the monitor. When compressions stop, in the instance of shock delivery or ROSC, the ventilation stops immediately. Upon resuming chest compressions, the MEDUMAT Standard² automatically switches back to CCSV mode.
The CCSV ventilation mode can be easily integrated in the resuscitation process and is compatible with manual chest compression, as well as with automatic cardiopulmonary resuscitation devices such as the corpuls cpr.