12 Jul 2023
Amped FIVE Update 29850: Updated GUI, Improved Macroblocks Filter, New Smart Adjust Filter and Much More!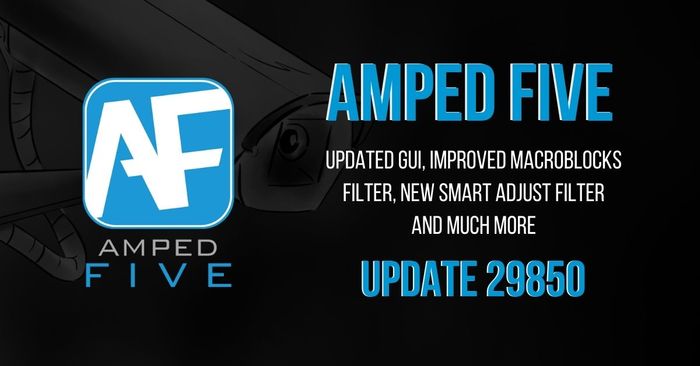 We are overly proud and thrilled to announce the new release of Amped FIVE, our flagship product and market leader in forensic video processing and analysis!
In the last few months, we have worked hard to update the graphic user interface with a modern look in line with that of Microsoft Windows most recent operating system. We aimed to maintain the same interaction and user experience that you have come to enjoy over the years.
And if this wasn't enough by itself, we have also updated the the Macroblocks filter, added the ability to batch convert files of different formats and introduced a brand new filter to our list: the Smart Adjust!
Updated GUI
We have finally decided to give an overhaul to Amped FIVE in terms of look and feel and to freshen up the appearance of icons, panels and tools. Everything is exactly the same as it was. It just looks so much better!
We updated our three color schemes to better suit the user's preference: "Light", "Mid-Tone" and "Dark".
The GUI of Amped FIVE's utilities, such as Convert DVR, Advanced File Info and Validation Tool, has also been revamped to give the product a unified modern appearance.
And, as well as improving the icons and the buttons, we have also redesigned and improved graphical elements of the software, such as the Histogram tool.
New Macroblocks Filter
With this release we also updated the Macroblocks filter from the Verify group. We have implemented some important improvements with this filter which are worth mentioning.
First, you no longer need to transcode the original video with the added color coded macroblocks to a new video. As soon as the new Macroblocks filter is added to the chain, the output of the filter will be immediately rendered into memory with the color coded overlay that we are already familiar with.
Secondly, we have added a new type of macroblock analysis, namely "Quantization Parameter Analysis". This displays detailed information about the quantization table used for each compression macroblock. In the filter settings you will now be able to choose between "Standard Analysis" and "Quantization Parameter Analysis".
The information will be displayed with numerical data inside the individual macroblocks. There is also an additional option to color code this information to visually indicate the aggressiveness of temporal compression within each macroblock. Each of these options can be toggled on and off, as required.
New Smart Adjust Filter
We now have a brand new filter that can be more effective at evening out the illumination in your whole image or video. The filter is called Smart Adjust and can be found in the Adjust group of filters.
The filter can estimate a local minimum and local maximum at each point of the image and stretch out these values to pure black and pure white respectively, proportionally balancing everything in between. What's good about this filter is that it features an edge preserving low pass filter which, in turn, reduces the formation of halos around sharp edges. The formation of halos is often a caveat when using similar types of filters. With Smart Adjust it is also possible to customize the processing depending on the initial state of the image. For example, if an image is too dark, you may use the "Brighten" mode in the filter settings to optimize enhancement. As always, new filters are thoroughly researched and validated for forensic use before implementation, so it is perfectly safe to use. Go give it a try and let us know what you think.
Batch Convert DVR
We have had many users requesting that we add the ability to batch convert proprietary videos of different formats and variants in Amped FIVE. We listened to feedback and we are pleased to introduce our new utility, called Batch Convert DVR, which will do just that!
The new utility can be accessed in two intuitive ways. You can either drag and drop multiple videos directly into FIVE's interface. If the program detects two or more videos in need of conversion, Batch Convert DVR will pop up with those files already populating the Input Files List. Alternatively, you can open Batch Convert DVR from the Utilities menu and drag and drop files directly into the Input Files list. The list can be adjusted by adding and/or removing files at any time by clicking on the relevant buttons. The remaining settings are identical to those of Convert DVR. Choose the destination of your converted files and when ready to batch convert, all you have to do is click "Ok"!
Other Improvements
Reworded Convert DVR info message on video stream detection more appropriately
Changed the order in which languages are displayed in the Language settings of Program Options
Annotate: added the ability to change brightness and contrast in Magnify
Added the $SUBTITLE text macro, with data originating from the Load Timestamp and the Load Subtitle filters. Also added the ability to disable rendering for the Load Subtitle filter so that the $SUBTITLE text macro can be used later in the chain as a textual annotation
Audio Redaction: when using "Split" from the context menu, the play head position will be taken into account instead of the position of the mouse cursor
Improved conversion logging for some file formats
Annotate: added a Tail selection in the Arrow tab
Added auto rename chain with file extension on Import
Save project: the software version is now stored with the generated .afp project file
Video Loader: added a "Concatenate File List" to report all files processed in Convert DVR when concatenating; also improved support for decoding YUV444P videos
Load Subtitle: added a parameter for selecting the subtitle stream
History Panel: it is now possible to add a folder name by pressing CTRL+ALT+N and to edit a folder name immediately
It is now possible to adjust the timestamp and the playback of a sequence of images
It is now possible to customize the content of the program's title bar (software version, project name, both, or none) in Program Options
Changed the order in which items are shown in the History Panel. Files are now loaded and sorted in alphanumerical order
Program Options/Import: added an "Auto Audio Sync" parameter
Formats
In this update we have added support for:
1 new file extension (264001)
1 new timestamp format (264001)
4 new video variations of already supported formats (dav, g64, mp4, psf)
2 new audio variations (dav, g64)
3 new timestamp variations (dav, exe, H264)
Remember: if you find a video file that we don't fully support, then there is a good chance we have never seen it before! Reach out to us in support, and we will get straight on it. This not only helps you out but the entire Amped community.
The best part? This is all included in an active Software and Maintenance Support plan.
Bugs
As well as improving the product, we have fixed a number of bugs, many of which have been reported by our users. Thank you, as always, for bringing bugs to our attention.
Convert DVR: fixed a bug that caused fallback procedures to be inactive when dragging an .afcd file into Amped FIVE
Validation Tool: fixed a bug that caused the OS to be identified as Windows 10 instead of Windows 11
DVR Screen Capture: fixed a bug that caused the video to not finalize correctly when using the H264 codec
Video Loader: fixed a bug causing a black bar to appear when using the FFmpeg engine and when the video frame has a width which is not a multiple of 8
Notes: fixed indentation issues in the Notes panel when the option "Auto Add Windows Date and Time" is activated in Program Options
Drag & Drop: fixed a bug where the Audio/Video Muxer cannot link to its sources when dragged into FIVE
Generate Report: fixed a bug which was occasionally causing a report to be named "unsavedProject"
Video Loader: fixed audio/video synchronization issues with long videos
Fixed issues with forcing of h265 codec in Fallback Procedures not working correctly
Annotate: fixed issues occurring when switching between consecutive instances of the filter
Fixed a bug that caused filters not to apply when clicking on Show Input
Histogram tool: fixed a bug that caused the histogram to not update for grayscale images
Rotate: fixed a bug where Area and Lanczos Interpolation methods were producing the same results as nearest Neighbor
Don't Delay – Update Today
If you have an active support plan you can update straight away by going into the menu About > Check for Updates within Amped FIVE. If you need to renew your SMS plan, please contact us or one of our authorized distributors. And remember that you can always manage your license and requests from the Amped Support Portal.