AvSax lithium battery fire technology needed to deal with rising number of vehicle, e-bike and e-scooter fires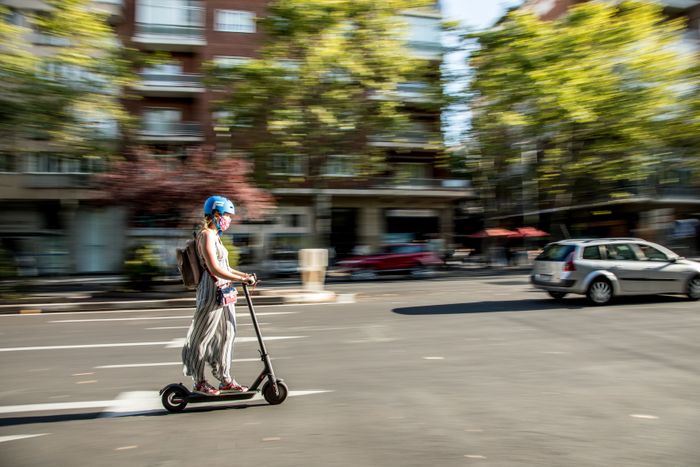 Fire services worried about the growing number of serious fires caused by e-scooters
Controversial plans to allow e-scooters on Britain's roads may spark a rise in house fires caused by lithium batteries catching fire or even exploding, experts have warned.
Authorities are deeply concerned that many e-bikes and e-scooters are stored in stairwells and next to fire doors or main exits in multi-occupancy buildings so if they do catch fire they could trap people trying to escape.
The Government's new Transport Bill has just been revealed and includes measures which could see e-scooters legalised on the UK's roads which may lead to soaring sales.
But insurance giant Zurich says e-scooters are a potential fire hazard which have already caused blazes in several homes and says more must be done to raise awareness of the risks.
London Fire Brigade had emergency calls to 74 e-scooter and e-bike fires in the capital last year, up from 28 in 2020 – a jump of 164%. London fire crews have already been to 30 blazes involving the vehicles this year.
Lithium battery fires have already been a huge issue on aircraft with passengers now told to take their personal electronic devices and lithium batteries into the passenger cabin with them so if they overheat or catch fire the crew can deal with them. Thousands of aircraft have a British invention, AvSax lithium battery fire containment bags, on board which won the top award any business can get, the Queen's Award for Enterprise, and have been used 33 times to deal with mid-air emergencies since the start of 2017.
They are made by Yorkshire company Environmental Defence Systems Ltd who are now working on using that technology to deal with battery fires on vehicles, including e-scooters.
Zurich has seen claims for lithium battery blazes triple over three years, with most caused by defective batteries, incorrect chargers or items being left on charge for too long. Cheap batteries bought online are also often to blame as they don't always meet safety standards.
Recent insurance claims for e-scooter fires include an £83,000 pay out after an e-bike went up in flames in a garage and another that exploded in a customer's bedroom, causing damage totalling £14,000.
The London Fire Brigade has already issued several warnings over the rise in e-scooter fires while Transport for London has banned them on its network after one caught fire in the underground network.
Zurich's Head of Property Claims, Alastair Thomson, said: "With e-scooter numbers growing rapidly we need to consider consumer safety at home, as well as on the road.
"Lithium battery blazes are already on the rise and it's vital people are aware of how they can safely store and charge the devices.
"Last year we saw multiple five-figure claims from battery blazes that left people's homes damaged and possessions ruined. Lithium battery fires could become more frequent unless we do more to increase public awareness of the risks.
"We strongly urge people to buy accessories from reputable companies, follow manufacturer's instructions on charging and avoid leaving batteries on charge when they leave the house."
London Fire Brigade's Assistant Commissioner for Fire Safety, Paul Jennings, added: "We have seen a rise in the number of fires involving e-bikes and e-scooters and it's vital people are aware of the risks.
"These items are often stored and charged in escape routes in homes or communal areas so when a fire does occur, escape routes are blocked which immediately makes an already serious situation much more frightening.
"We know lithium-ion batteries are susceptible to failure if incorrect chargers are used. Many of these incidents involve batteries which have been sourced on the internet and which may not meet the correct safety standards."
Louise Russell, a partner at Burgoynes, a leading firm of forensic investigators, said: "While lithium-ion batteries are generally safe, if they sustain a fault the result can be catastrophic. To reduce the risk users should make sure they buy lithium-ion batteries from reputable manufacturers, charge them with the correct adapter and in accordance with manufacturers' instructions and stop using them if they are damaged, have been wet or are swollen.
"Burgoynes have investigated many fires started by lithium-ion batteries and we are seeing an increase in the frequency of such incidents. In some cases people have become trapped in their properties due to the location chosen for charging batteries. Given the potential for a sudden and rapidly developing fire from batteries, it is advisable to consider escape routes from buildings and not to charge batteries at the bottom of staircases or close to final exit doors."
Last year, Zurich recorded several blazes caused by lithium batteries contained in household devices, including laptops, vapes and e-scooters.
These include a £60,000 claim involving a cordless vacuum cleaner that burst into flames and a £9,000 fire sparked by a remote-control aircraft which burned down a shed.
London fire crews have put out 40 lithium battery fires this year. In 2021, they dealt with 109 fires – double the 55 seen in 2020.
Alastair Thomson added: "From laptops to mobile phones, lithium batteries are now so common in our homes it's easy to overlook the hazards they pose, if not treated properly. Although lithium battery blazes only make up a small proportion of fire claims, it's important people remain aware of safety when charging up electronics."
Top tips on preventing lithium battery fires
Only buy from reputable manufacturers or suppliers.
Stop charging your device as soon as the battery is full and do not leave items charging overnight.
Only use the charger supplied. Just because another charger has the same plug does not mean it will charge the battery correctly.
If replacing a battery ensure that they are compatible with the appliance and the charger.
Don't use batteries which have been damaged.
Charge away from combustibles and never under pillows or on soft furnishings.
Charge on flat, solid, and stable surfaces. Don't leave batteries on charge when you go out.
For more information on AvSax go to http://avsax.com/