04 May 2023
Brilliant Lighting on display at ESS Stand L174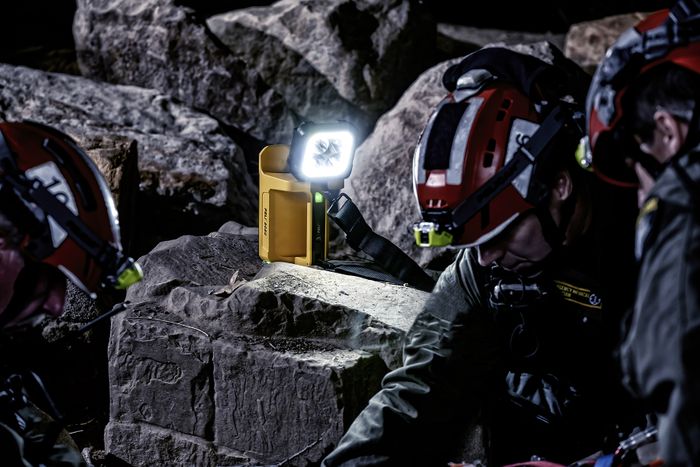 Peli Products (UK) Ltd offer a wide range of robust safety torches and work area lighting which has been developed and evolved over 30 years. Peli™ professional lighting products are designed for rugged use by emergency services personnel in the toughest operational conditions.
The Peli™ 9050 LED is an ideal search and rescue light powered by a flexible battery system that can run on Li-ion battery packs, AA Alkaline or AA NiMH cells. The quick-change battery system provides continuous lighting via rechargeable 7.4V Lithium Ion battery packs, or up to 16 AA Ni-MH / Alkaline batteries.
With an IP67 rating this waterproof utility light delivers an output of up to 3369 lumens and a choice of Spot, Flood, or Spot & Flood combined, without the need for diffusers or attachments. Designed to stand on end, it features a 112.5° tilting head to angle the beam exactly where required. A sure grip handle provides a comfortable and non- slip grip with an extra large space to accommodate gloved hands.
With a battery level indicator, the Peli 9050 has rear taillights with a dedicated switch and adjustable colours (Green, Blue, Red).
Peli™ 3415 Zone 0 in service with Scottish Fire & Rescue Service
Peli Products (UK) Ltd have supplied the Scottish Fire & Rescue Service with the 3415Z0 right angled torch for every firefighter as part of their essential PPE.
The contract totalled 7500 units with a contract value in excess of £400,000.
The right angled Peli™ 3415 Zone 0 was selected by the service specifically as a body worn/hands free light, it features a 90° articulating head to angle the light where required. An integrated clip easily attaches to clothing for hands-free light.
Sales Director of Lighting products, David Smith, commented "We are thrilled to have been awarded such a significant and prestigious contract, for the UK's largest Fire Service. This is testimony not only to the performance levels of the product itself- but also acknowledges the Peli™ warranty; in addition to the dedicated service, policies, and processes we are able to provide in support of this contract."
Peli Products (UK) is an ISO registered company with a nationwide sales team.
Located throughout the UK, the sales team are hugely experienced and can advise on the most suitable lighting and protective packaging options.