31 Jul 2023
Chris Solomons – The Man Who Lived and Defib Store's New Ambassador.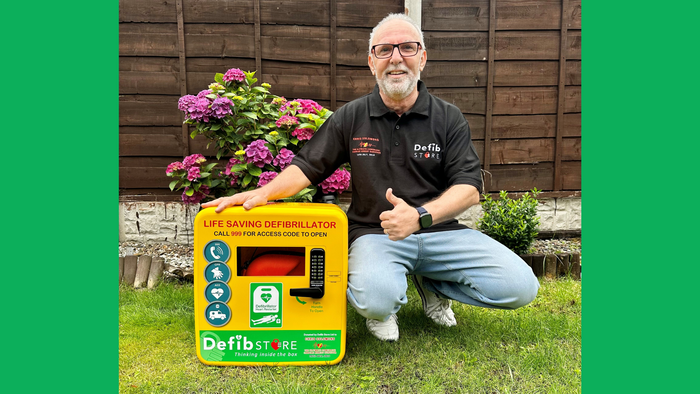 Chris Solomons – The Man Who Lived and Defib Store's New Ambassador.
At Defib Store, we are proud to announce our partnership with an extraordinary individual who has experienced first-hand, the life-saving power of effective CPR and defibrillators.
Chris's inspiring journey emphasizes the significance of quick responses, effective CPR, and the accessibility of defibrillators in communities.
For those of you who don't know Chris Solomons and his story, he is a resilient survivor who, after suffering a cardiac arrest, has dedicated his life to raising awareness about the importance of public access defibrillators and their crucial role in saving lives.
13 years ago to, on July 24th, 2010, Chris, was working as an Emergency Medical Dispatcher at the Yorkshire Air Ambulance, where he found himself facing a massive heart attack that abruptly led to a cardiac arrest.
Remarkably, the television crew filming for the programme, Helicopter Heroes happened to be present, capturing the terrifying moment. If you've already seen the footage, it serves as a testament to the life-altering events that followed.
Thanks to the prompt actions of his colleagues, who immediately initiated CPR and utilised a defibrillator to deliver two crucial shocks, Chris was resuscitated and given a second chance at life.
Since that transformative incident, Chris has tirelessly campaigned to spread awareness about the life-saving potential of CPR training and public access defibrillators.
The Importance of CPR and Defibrillators, in Chris's own words:
"I'm still standing today because of the difference CPR and early treatment with a defibrillator made to my life."
His personal experience reinforces the critical need for individuals to have access to life-saving defibrillators, and possess the knowledge and confidence to perform CPR when faced with a sudden cardiac arrest.
Cardiopulmonary resuscitation ensures that oxygen continues to reach the brain and vital organs until professional medical help arrives, significantly increasing the chances of survival.
Defibrillators deliver an electric shock to the heart, effectively restoring its normal rhythm. Time is of the essence, as each passing minute decreases the chances of survival by approximately 10%. This means that having easily accessible defibrillators in public spaces can greatly enhance the survival rates for victims of sudden cardiac arrest.
With his remarkable recovery as motivation, Chris has dedicated himself to advocating for the widespread availability of defibrillators in communities. At Defib Store, we wholeheartedly support Chris's mission and strive to provide high-quality, reliable defibrillators and accessories to organisations and individuals who are committed to saving lives.
By bringing on board Chris as our brand ambassador, we aim to amplify his voice and extend the reach of his message. Together, we aspire to inspire communities, schools, workplaces, and public spaces to equip themselves with defibrillators, making them readily available to anyone who may require immediate life-saving intervention.
Chris's story serves as a powerful reminder that rapid response is crucial in emergencies. By training individuals in CPR techniques and ensuring the availability of defibrillators in public spaces, we can empower ordinary people to respond to emergencies and significantly improve the outcomes for cardiac arrest victims.
We are honoured to welcome Chris as our brand ambassador. His resilience, dedication, and unwavering commitment to saving lives resonate deeply with our mission.
Together, we aim to raise awareness about the importance of easily accessible defibrillators in communities and their critical role in responding to sudden cardiac arrests.
We also wanted to help support Chris and his local community with a donation of a Defib Store 4000 defibrillator cabinet, and a defibrillator. This will be installed close to Chris's home later this week and will be registered on The Circuit shortly after.
Join us in supporting Chris and welcoming him to the team.

Chris will be in attendance at the Emergency Services Show on behalf of Defib Store.