31 Aug 2023
Community nurses are feeling the benefit of new medical bags in Gloucestershire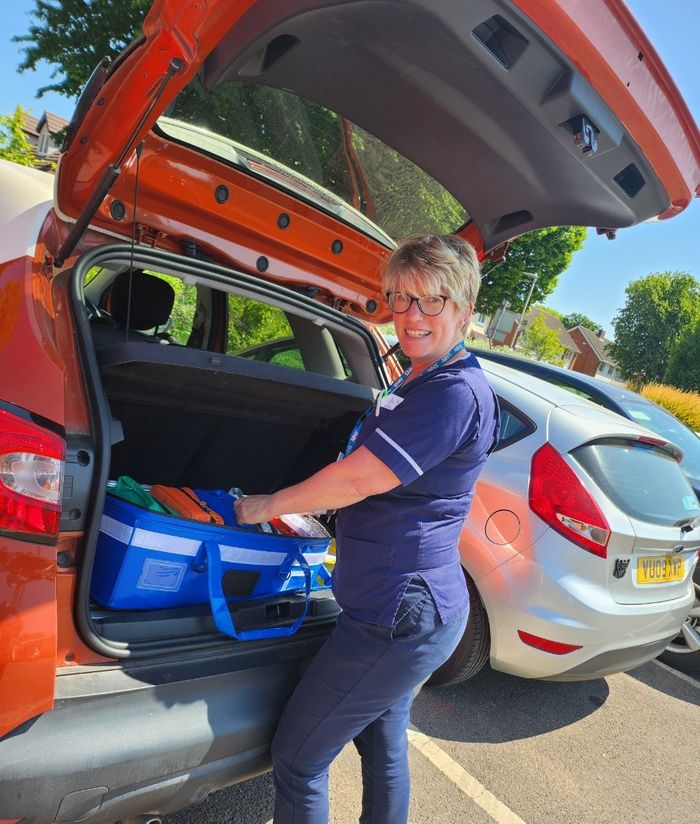 Community Nurses are feeling the benefit after Gloucestershire Health and Care Foundation Trust invested in new medical bags to organise all their equipment for home visits.
The Trust recently purchased 370 bags from CorrMed after Nancy Farr, Professional Head of Community Nursing, looked at feedback from other Trusts about the bags positive impact on community nurses.
She said: "There's been a bit of a groundswell recently with other Trusts and NHSE looking at these types of products, and it's something the Trust already uses for infection control and vaccination teams.
"I felt it was really sensible to have something that was flexible and fit for purpose for all the things community nurses need to carry into patient's homes.
"These bags are great, in that they divide all your equipment into separate kits for different situations, so everything is properly organised. If you're going to see a patient for a dressing you've got everything you need in one place – it saves time and looks and feels professional.
"It also has a separate kneeler, which is a really helpful accessory to have as part of the package."
Nurses can organise their bags according to their own preference, but might have separate kits for phlebotomy, sutures, leg ulcer dressings, PPE, observation equipment such as thermometer, pulse oximeter and stethoscope, and various wound care kits.
The community nursing teams in the county have been positive about the addition, with comments such as 'Game changer' – makes carrying dressings, kit and laptop so much easier' and 'The bag is really versatile, with the larger, small bag, kneeling pad and pods supporting whatever situation you're heading into' among the feedback.
Katie Houghton, Managing Director of CorrMed says, "I'm delighted with the response that we have had to these new community nursing bags, and to be able to support our own local NHS Trust is incredible. We design our bags with the user in mind and take advice and direction from those on the frontline, which means that we actually get to solve the problems that they are experiencing."