01 Sep 2023
CorrMed supports Northern Ireland Ambulance Service in new paediatric bag trials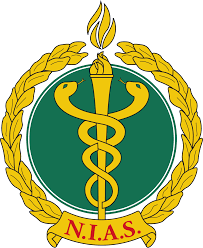 One of the parts of our business that many don't know is how we work with organisations, NHS Trusts, and medical facilities to develop and create medical bags to suit their requirements. Working with the Northern Ireland Ambulance Service (NIAS) we developed two potential prototypes for paediatric kit bags to be used out in the field for paramedics.
Julia Wolfe, Research & Development Manager met our Managing Director, Katie Houghton at IPS 2022 and reached out to ask if we could create a sample paediatric bag for them to trial. Orla Morrow, who is a paramedic, is completing her PHD which she has focused around the quality improvement project of the development of the new paediatric bag. Orla has carried out extensive research and has taken the prototypes out to clinicians for them to trial. Initially the trail began with 30 team members, but has just been expanded to the entire service and will now gain feedback from 200-300 staff.
One of the key elements for the bags is for the paramedics to be able to quickly and clearly see what's available in order to treat the patient. NIAS shared the kit that they use and what equipment needs to go into a bag. The CorrMed design team took this information and developed two prototypes for the team to test and provide feedback on.
The trial bags are unique and unlike any other paediatric bag on the market. All of the airway, breathing and circulation kit is in one place, clearly running from left to right. Everything is laid out in size order (not all equipment is a standard size in paediatric work) and is colour coded which makes it far easier to find, especially in an emergency response situation. As with many CorrMed bags, it is 100% wipe clean including the straps.
The R&D team continually monitor new bags as they are used in live environments. This essential part of the development process allows us to gain feedback, consult with users and refine our designs prior to production. Some of the initial feedback includes:
"It's very nice, great layout and has everything required."
"The colour is good for knowing which bag to grab quickly and that you are less likely to forget it on scene."
The service wide trial is due to finish at the end of August, and once all the feedback has been collated CorrMed will look to make the necessary changes to the bag, before it goes into full scale production.