EDUCATION THAT SAVES LIVES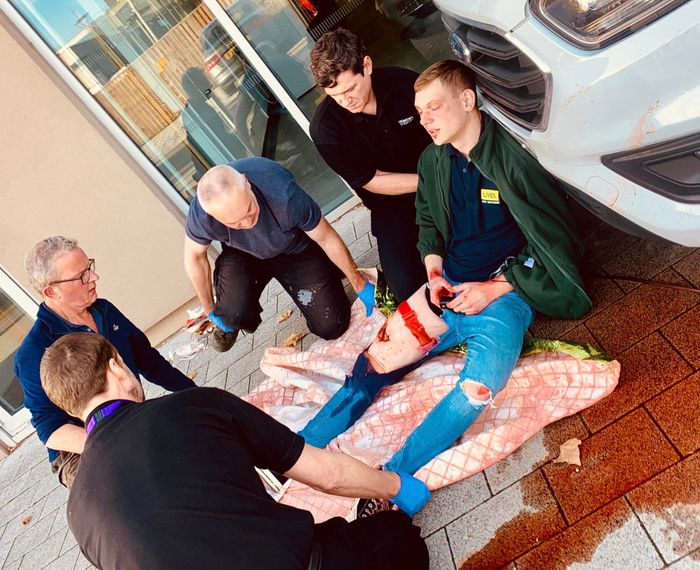 Enhancing first aid capabilities in the workplace: How we helped the teams at Siemens Energy Industrial Turbomachinery Ltd, to take their First Aid Training to the next level.
As part of the global energy provider, Siemens Energy Industrial Turbomachinery Ltd (SEITL) benefits from a global network of expertise, they design, manufacture, sell and offer service support products for gas turbines and their associated equipment to suit the specific service requirements of each operator.
Based in Hykeham, Lincolnshire, SEITL wanted to further its commitment to providing the highest level of wellbeing safeguarding to its employees and entrusted LIVES to provide BTACC and RTACC level first aid training to their workforce.
Empowering teams. Saving lives
LIVES has been SEITL's chosen first aid training provider for over 14 years and were engaged by their leadership team to embed new enhanced elements, to both their mandatory and optional first aid training programme.
"We discussed with LIVES about replacing our existing courses with the BTACC and RTACC qualifications. The first of these courses has recently taken place for five of our senior first aiders (RTACC)," said Paul Buffham, Principal Fluid Systems Engineer.
The BTACC (Basic Trauma and Casualty Care) First Aid training delivered to the team at SEITL is an internationally recognised training course provided by LIVES. It's nationally recognised, enhanced first aid qualification, which is particularly beneficial for employees working in potentially high-risk settings. The training provided set out to achieve key outcomes, including:
Transitioning attendees from basic first aid through to critical care interventions, providing a robust pathway to equip learners to have the ability to act in potentially critical situations and save lives.
Providing attendees from SEITL with the key skills required to assess, treat, and prioritise a wide range of potentially life changing traumas.
Our approach to delivering the BTACC first aid training, in summary:
Training was delivered on-site, over three days.
A mix of learning styles was embraced, to ensure the days were inclusive and engaging for all attendees, this encompassed an effective blend of classroom and workshop time, complemented by practical simulations designed by LIVES instructors Chris and Steve
The difference LIVES made. In their own words.
"Our three days seemed to be over in the blink of an eye, but the improvement we all saw was really pleasing and filled us all with confidence, as lockdown has meant some of us have been working from home and not used the skills we had previously learned.
To anyone wishing to become a first aider or take things that bit further with some additional skills, I can fully recommend both the BTACC and RTACC courses provided by LIVES."
Paul Buffham – Principal Fluid Systems Engineer, SEITL
Commit to making your workplace a safer place. Embed critical skills. Contact us today to book BTACC First Aid training for your organisation.