Supercharge your signal with Excell, the 4G LTE Optimisation Antenna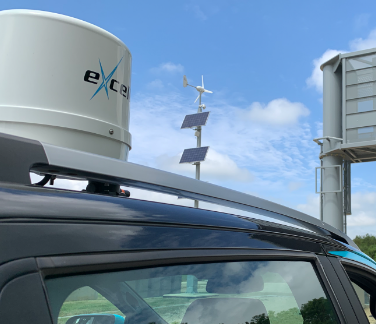 In today's world, access to reliable communications plays a vital role in ensuring the effectiveness of the emergency services. Whether it's responding to critical situations, coordinating rescue operations, or providing essential medical assistance, dependable cellular networks are an absolute necessity. Unfortunately, many areas still suffer from poor cellular reception, leaving you with dropped calls, slow internet speeds, and frustrating downtime. That's where the Excell 4G LTE Optimisation Antenna comes in.
Excell is a cutting-edge solution designed to optimise cellular reception and provide reliable connectivity in even the most challenging environments. The antenna works by making a connection with network antennas over a much greater distance than traditional methods and significantly improves networks coverage and performance.
Take a closer look at Excell in our latest video with Chief Technical Officer, Simon Hill.
Tried, Tested, and Trusted: Assessing Excell's Resilience and Efficiency in Real-World Scenarios
Brecon Beacons Trial: The Ultimate Test
One of the most compelling demonstrations of Excell's power took place in the rugged terrain of the Brecon Beacons – an area notorious for its poor cellular connectivity. As traditional routers were barely able to maintain a signal, with an iPhone on two of the major terrestrial networks only able to access to edge (2.5G) data services, Excell achieved 18Mbit/s upload speeds and 17.6Mbit/s download speeds.
The success of this trial showcased Excell's ability to provide significantly enhanced performance with almost symmetrical upload and download speeds in an extremely remote environment.
The Maritime Connection
Excell's technology originated in the maritime world. During an offshore trial, when sailing away from the shore, where signal strength inevitably weakens, Excell allowed the Excelerate team to maintain connectivity at vast distances from the coastline. Video streaming capabilities were achieved at an impressive 60km away from shore and maintained a connection at an astonishing distance of 82km.
Empowering Emergency Responders with Rapid Connectivity Restoration
In some emergency situations, communication infrastructure such as cell towers may become damaged or destroyed. This can make it nearly impossible for responders to establish reliable communication with each other and off-site collaborators. This happened to one of our customers at a recent incident, and thanks to Excell, they were able to go from an unusable connection of only 4Mbit/s all the way up to 40Mbit/s. This allowed responders on scene to connect devices and access critical cloud-based applications to effectively manage the incident.
Use Cases
Fire and Rescue
Shropshire Fire and Rescue Service has installed an Excell antenna on its Incident Command Unit as a backup to provide additional resilience in case of primary SIM card connectivity issues. The Excell antenna ensures uninterrupted connectivity, even in areas with poor connectivity, enabling the service to respond to emergencies and protect the public. Many of our other Fire and Rescue customers use Excell including Northamptonshire and Hampshire & Isle of Wight.
Policing and Security
South Wales Police have equipped their mobile CCTV units with Excell antennas to provide the bandwidth required for live streaming HD quality footage from large-scale events. This ensures that the police force can monitor and respond to events in real-time, providing the necessary support to keep the public safe.
Drone Operations
Police Scotland's drone team utilise a portable Excell for enhancing their situational awareness. Excell ensures that the drone team have access to significantly higher network quality speeds and coverage, enabling seamless live streaming to any authorised device. With Excell, the drone team can enhance their operations, ensuring they stay connected and make informed decisions swiftly and effectively.
Healthcare
Mobile units equipped by NHS Digital are helping a unique service in London protect some of the most vulnerable people in our society from TB, HIV and hepatitis. These vehicles operate in dense urban areas, they can be affected by network congestion, and in more rural locations, they can have trouble finding a network. The Excell on their vehicle combats congestion by automatically locking-on to the strongest cellular signal available keeping them connected, no matter where their location.