17 Jun 2022
FORTIS WINS MENTAL HEALTH CONSULTANCY OF THE YEAR 2022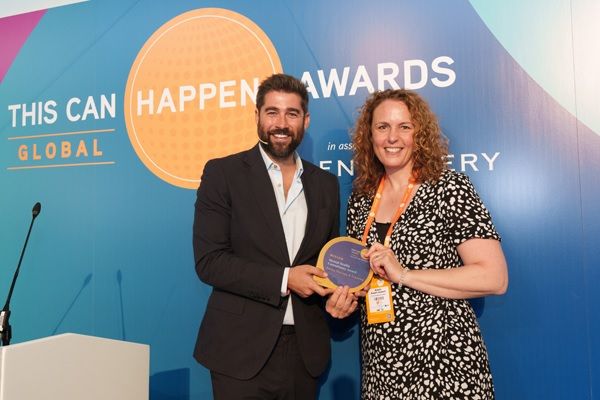 Fortis Therapy & Training is thrilled to announce that it has been named Mental Health Consultancy of the Year in 2022's This Can Happen Awards.
. The first category to be announced at these awards which are dedicated to celebrating companies and individuals who have shown excellence in their approach towards positive mental health for their employees and colleagues, Fortis – which was represented by managing director and founder Alexis Powell-Howard and Head of Operations, Claire Brumfield – headed to the stage to collect this incredible accolade.
One of only three names to be included on the This Can Happen shortlist for this particular category – Let's Reset and Mental Health at Work CIC being the other two - Fortis headed down to the Award Winners Presentation Reception yesterday, (June 16th) which took place at the Business Design Centre, London, to see which businesses were taking home gold this year.
After receiving a Highly Commended Certification at last year's event for the same category - at which the already award-winning mental health and emotional wellbeing specialist presented the judges with its work within schools as part of the Right to Succeed project – this year Fortis presented the panel with its extensive work with the Police Service and the National Police Wellbeing Service. Just one example of the in-depth work Fortis does with businesses to evolve the internal culture and approach to mental health.
As the 'go-to' provider for police training, Fortis works with Humberside Police, South Yorkshire Police, and Oscar Kilo - the National Police Wellbeing Service on a range of services. These have included the training programmes Keeping the Peace, Keeping the Peace Too, Trauma-informed Approaches to Policing as well as hosting two series of 'Keeping The Peace' podcast, with a third in production.
Fortis' work within the Police Service and with businesses has centred around a focus on a whole organisation approach to wellbeing culture, something the Lincolnshire business has been actively and successfully working with other businesses on across a multitude of sectors. Working with national businesses and well-known brands such as The RHS, Mizkan, and Synthomer, Fortis utilises the whole organisational approach by developing and collaborating with organisations to embed a wellbeing culture within each business, tailored to bespoke goals and support needs, creating a new culture within the workplace based on wellbeing to encourage affective, empathic leadership from within.
This year's awards attracted entries from every sector, with judges reporting that they we were overwhelmed by the number of entries. As for what the judges said about Fortis, well…
"This is more than commendable in terms of the way they have tackled their training for organisations – relationship-based, ongoing support and responding to the complex mental health issues faced internally."
"This is the sort of training that is needed for the police force, who are at the front line and may deal with complex mental health issues in ay-to-day activities, let alone during Covid. This is the sort of training that is easily implemented on a wide-scale basis."
"Tailored solutions for teams and also thought about the sustainability and longevity of the content. Impact is clearly seen by how the training has been used across the business and how content has been integrated as part of the client's core wellbeing service."
"Deeply impactful, with both the Keeping The Peace initiative and the trauma offering being scaled – which in itself is testament to its success and being embedded within the police force."
Alexis Powell-Howard, Fortis Therapy & Training MD and founder, said: "What can I say, this was THE award we wanted to bring home this year and being Highly Commended last year – and we've done it. This truly is testament to the hard work, life-saving work, every single member of the Fortis team puts in daily, I'm so proud of them and what we have achieved together.
"The work we have been doing across the country with the National Police Service and Oscar Kilo – the national police wellbeing service, is really working to address issues from the top down, and to provide teams working in some of the most traumatic and stressful areas of policing with the internal support they need.
"To be recognised for a significant piece of work like this, which has already received such incredible feedback from those working on the frontline of the Service, really means the world to the team here. To once again be up there next to some incredible global names, to have the work we are doing at Fortis recognised at such a level is testament to all the hard work our dedicated team puts into everything that they do.
"The work we have done with the Police Service is just one example of what we do here at Fortis every day. Focussing on this 'whole organisation' approach to wellbeing culture is something we have, and are, instilling in both Lincolnshire and nationwide businesses. It is an approach that has been successfully working across a multitude of sectors to improve work environment culture, communication and instil a real level of trust across all levels of businesses. It is an approach which reduces absenteeism, staff sickness, grievances, and increases productivity, happiness and value in the workplace by developing a wellbeing culture tailored to bespoke goals and support needs. It creates an entirely new culture within the workplace based on wellbeing to encourage affective, empathic leadership from within.
"And this win couldn't have come at a better time for Fortis. This is our tenth anniversary year, and we have some exciting plans in motion to make it even bigger than the last 12-months, which have been our busiest yet – always a bittersweet thing to say given the nature of our work, however testament to how much more people are recognising the need for the approach to change around how we approach our mental health.
"I can't say too much yet, but we'll be celebrating Fortis turning 10 following the summer months – with an event we hope will come with a BIG announcement! But what I can reveal is that we are rebranding and have a new website in development with fellow Grimsby-based business Laser Red. The website is really aiming to level-up our brand and make our offering for individuals, schools and businesses clear, with individual identities, so clients, no matter who they are, can find exactly the information they need in fewer clicks."
This Can Happen Awards were launched in 2019 to celebrate and recognise companies and individuals who have shown excellence in their approach towards positive mental health for their employees and colleagues. Previous winners include Accenture, Legal & General, National Grid, Wave, Salesforce, Fidelity, Disney, Lloyds Bank and Royal Mail Group.
https://www.youtube.com/watch?v=4lgQkEz0Alg