29 Jun 2023
Introducing Amped Engine: Our New Product to Integrate Video Conversion Everywhere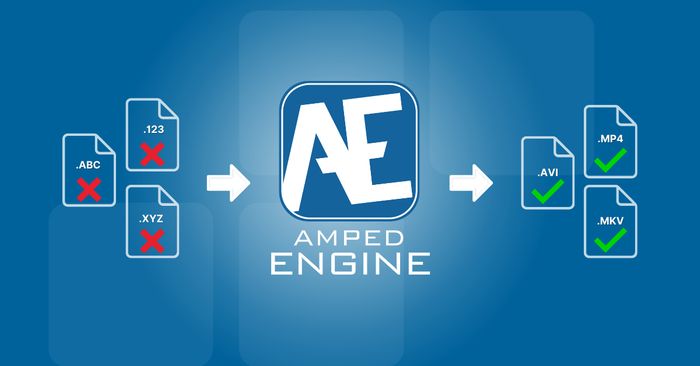 Amped Engine is a command-line tool that brings Amped's unmatched proprietary video conversion capabilities to your software, service, or video management solution in general.
Dear friends, we're very thrilled to announce a new addition to the Amped ecosystem for forensic image and video analysis! Amped Engine is a command-line tool that brings Amped's unmatched proprietary video conversion capabilities to your software, service, or video management solution in general. Keep reading to learn more about this new entry in Amped's solutions!
The Challenge of CCTV Proprietary Video Formats
Let's start from the beginning, which means the problem Amped Engine is here to solve. If you've ever dealt with video coming from Closed-Circuit Television (CCTV) surveillance systems, you know that most Digital Video Recorders (DVRs) export videos in a proprietary format.
That means the native file won't play in any consumer video player such as VLC or Windows Media Player. This leaves the investigator (and, in general, anyone who needs to see the video) with the problem of finding the proprietary player that would reproduce and hopefully export it to a standard format. However, as we explained on our blog, exporting videos using the DVR player is often a bad idea.
Amped's Approach to Video Conversion
In order to solve the above issue, which is a persistent challenge when working with surveillance footage, Amped has invested thousands of working hours in the development of a powerful conversion engine. This technology has powered many of our solutions for years. Amped FIVE, Amped Replay, and Amped DVRConv all share the same conversion engine.
Nowadays, Amped users are accustomed to simply dragging the native file into our product's interface and waiting while it is converted to a playable format. By default, the conversion retains the original pixels and extracts precious side information such as metadata, timestamps, and audio tracks whenever possible. If videos from several cameras are multiplexed into a single file, the conversion engine will split them to separate standard video tracks.
Welcome to Amped Engine
Alright, here's the news: Amped Engine makes our conversion engine available as a command line tool, which means you can integrate it into your video processing or management software, platform, or other third-party systems. The straightforward command line API (application programming interface) lets you convert one (or multiple) files to a standard format with a single call. No need for complex software development toolkits (SDK) with their integration issues and no need for advanced programming skills.
This is important news for the industry. As many law enforcement agencies are transitioning towards using Digital Evidence Management Systems (DEMS), be it cloud-based or on-premise, it is paramount that surveillance videos are processed correctly during ingestion. Getting it wrong could make an entire branch of the investigation useless with it comes time for trial. That's why we've decided it was time to make our conversion engine accessible to companies developing video evidence management and analysis solutions.
Amped Engine can be largely configured: for example, you can set it to copy the original video streams into a standard container (usually the best choice for forensic use) or transcode the input video to a standard format that will play everywhere (best choice for maximum compatibility). You can tell Amped Engine to split an input video into fixed-length clips or ask it to change or adjust its playback speed to help videos play correctly.
The fact that the software doesn't have a graphical user interface doesn't mean that users are left alone! Just like for every other Amped product, if you stumble on a video format that can't be converted, our support team will assist you, and we'll possibly add support for that format in the next software update.
If you want to learn more about this product contact us.