Introducing Jactone Lithium Battery Fire Extinguishers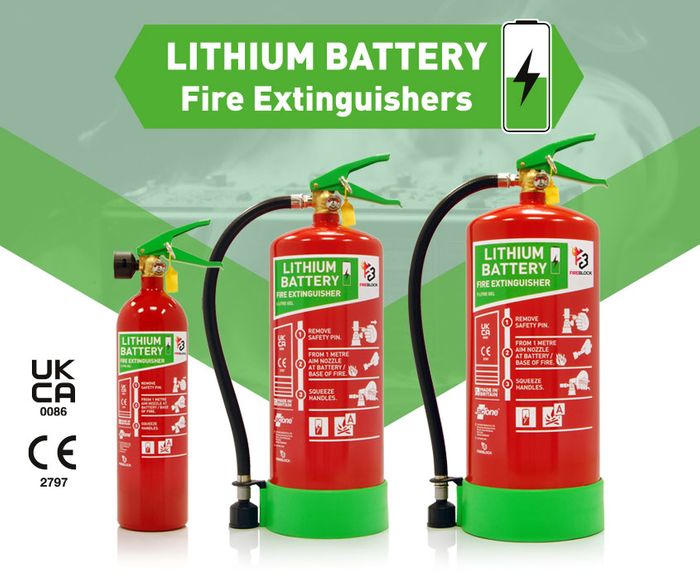 New fire extinguisher range using FIREBLOCK LITHIUM agent
Jactone are delighted to announce the launch of our new range of Lithium Battery Fire Extinguishers, incorporating FIREBLOCK LITHIUM. Jactone Lithium Battery Fire Extinguishers are available in 2, 6 and 9 litre models which are all CE and UKCA marked.
FIREBLOCK LITHIUM is a revolutionary gel material which offers unique performance in tackling lithium battery fires.
Lithium batteries are increasingly used in modern life, both at home and in the workplace. They provide a power source for a wide variety of equipment and unfortunately, due to a variety of reasons including, overheating, overcharging and mechanical damage, can sometimes lead to fires.
Such fires are usually accompanied by Thermal Runaway within cells and Thermal Propagation between cells. To have any chance of arresting both thermal runaway and preventing thermal propagation, high-performance properties are required of an agent.
To prevent or even arrest thermal runaway requires significant cooling action to interrupt the unstable chemical process, and to prevent thermal propagation we must provide a thermal insulation or 'Fireblock' between cells.
FIREBLOCK LITHIUM has both properties in abundance, with the capability to arrest thermal runaway and prevent thermal propagation.
The Benefits of FIREBLOCK LITHIUM
Specialised gel
Non-toxic
100% biodegradable
Cools battery temperature within seconds
Can arrest and prevent thermal runaway and thermal propagation
Reduces emissions of toxic smoke, lowering explosion risk
We are confident that the performance of our Lithium Battery Fire Extinguishers using FIREBLOCK LITHIUM will provide assurance when dealing with the challenge of lithium battery fires.
Discover our Lithium Battery Fire Extinguishers for yourself at The Emergency Services Show on our stand M176.
Helping you stay safe today and tomorrow