Jactone partners with FLAIM to bring you FLAIM Extinguisher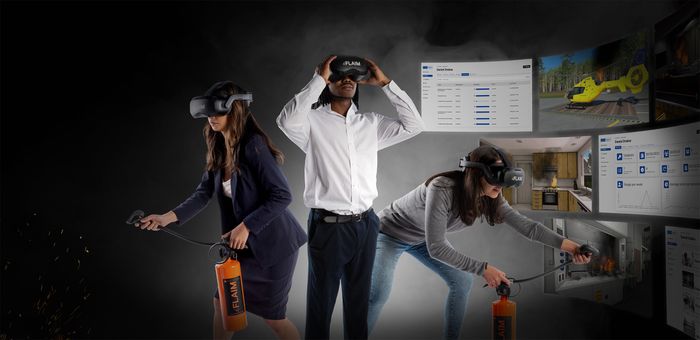 Looking for a new fire extinguisher and warden training solution that is easy to administer, minimises team disruption and downtime, is free of health and environmental concerns, and has multiple scenarios?
Jactone, in partnership with FLAIM Systems are delighted to offer FLAIM Extinguisher, a fully immersive VR learning solution for fire safety training. Learn how to fight fires in safe, realistic, dynamic virtual environments.
Training with FLAIM Extinguisher allows users to experience a simulated fire in a controlled and safe environment, significantly reducing the risk of injury or damage to property. Users can learn and practice how to use a fire extinguisher and put a fire out effectively with 65+ industry-specific scenarios. You can conduct contextualised training and engage learners with real-world fires in places they recognise.
By choosing VR to conduct your training, you eliminate the need to set up a real fire, which can be expensive and time-consuming, and there are no more weather or environmental concerns. Through VR, you can repeat the training as often as necessary and help users identify and correct mistakes. By using VR, users are also more likely to remember what they have learned, which can help them respond effectively in a real-life emergency.
Discover FLAIM Extinguisher at The Emergency Services Show on our stand M176 and give it a go for yourself!
Helping you stay safe today and tomorrow