New Emergency Intervention Unit and Live-Streaming Drone Integration is a Game-Changer for Network Rail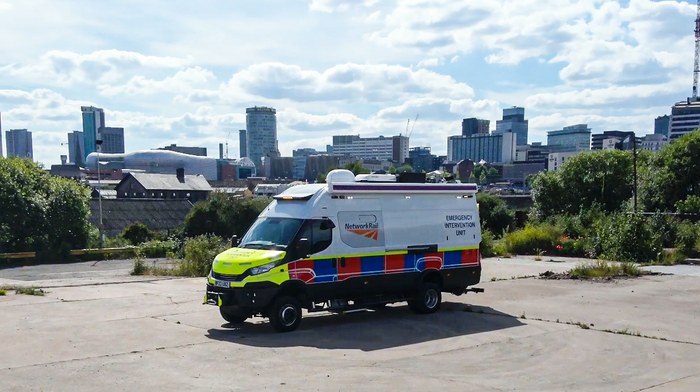 "This vehicle completely revolutionises the way we deal with everything from our business-as-usual events to responding to major incidents." These are the words of Mark Bennett at Network Rail as he shares his experience using the new Emergency Intervention Unit at the Rail Show, whilst demonstrating live-streaming from their fleet of drones securely back to the vehicle control room via Excelerate's 'Exstream' Video Management Service.
Enhanced vehicle technology
Excelerate worked closely with Hall's Electrical in the design and implementation of the vehicle to enable resilient and reliable connectivity in dense urban areas, which can be affected by network congestion, and in more rural locations, with poor network availability.
The Excell 4G LTE long-range antenna on the roof of the vehicle combats congestion and poor coverage by giving users priority on the network. This specialist antenna works by automatically locking on to the strongest cellular signal available, drastically improving network quality to support a wide range of data-hungry applications such as video streaming.
In addition, Excelerate's engineering team integrated a full IT suite allowing the rail incident officers and their support staff to easily deploy the vehicle, manage the onboard AV systems, access back-office systems and more – reducing downtime whilst enhancing operational efficiencies.
"We plan to go full national deployment with these types of vehicles and completely change the game for Network Rail."
In this video, we hear how Mark and the team are utilising both the in-vehicle and drone technology for shared situational awareness, enhanced safety and improved decision-making.
Taking connectivity beyond the vehicle
Excelerate's Linx Hub portable Wi-Fi hotspot allows remote teams at Network Rail to easily create a secure Wi-Fi network with fast and reliable speeds wherever they are. It can easily be moved and repositioned to provide coverage where it's needed most. This allows them to communicate and coordinate more effectively, which can ultimately lead to faster and more effective response times.
Situational awareness beyond the drone pilot
Network Rail has also adopted Excelerate's UAV Streamer. The solution allows the live video from their drones to be shared beyond the pilot to a wider audience providing invaluable insight. By having more people observing, Network Rail teams are able to promptly assess any situation and make informed decisions regarding resource allocation and response strategies.