14 Jul 2022
New! Kanga Star Worklights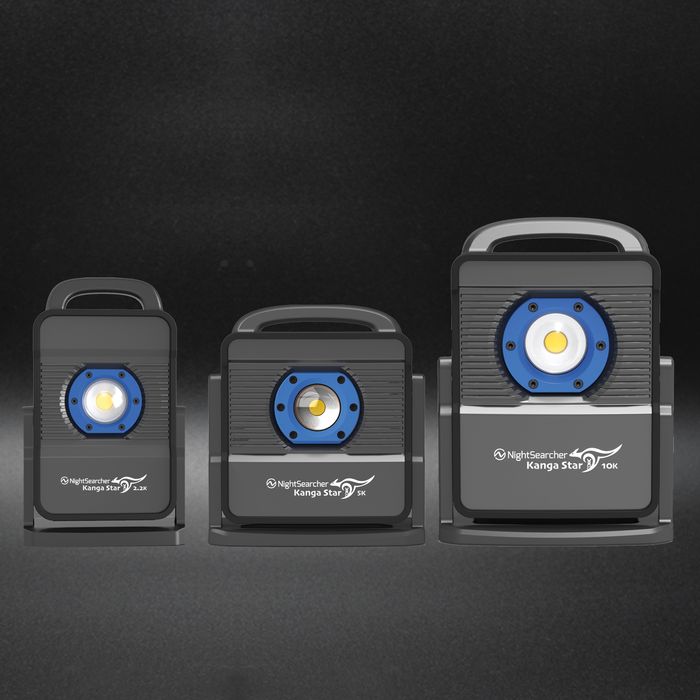 New Kanga Star LED Worklights
The new Kanga Star, a collection of 3 high-powered work lights that are designed to operate from power tool batteries. Featuring an ingenious, 3-in-1 power supply system, Kanga Star accepts 14V and 18V batteries from some of the leading power tool brands, as well as receiving its own stock battery and an AC mains power adaptor.
Offering the quick and easy change of power source whilst on site, the new Kanga Star is a versatile, hybrid LED work light set.
POWERFUL ILLUMINATION
Kanga Star is available in 3 configurations – Kanga Star 2.2K the 2,200 lumens entry-level model, Kanga Star 5K the mid-range 5,000 lumens model, and Kanga Star 10K the ultra-bright 10,000 lumens model. With each version featuring the adaptable power source system, you can simply "click and shine" and will never be left in the dark with Kanga Star's compatible power supply.
Cycle through 5 illumination settings on both the 5K and 10K models and light up your work site with up to a 50-metre and 100-metre beam respectively. Some serious power and outstanding flexibility from these portable lighting units!
3-IN-1 UNIVERSAL POWER SUPPLY
The Kanga Star has 3 power supply options, allowing for interchangeable batteries or even AC mains (5K and 10K models only).
The Kanga Star is supplied with one of two power tool adaptors:
Adaptor A accepts batteries from Panasonic, Hikoki (Hitachi), Makita and Bosch tools
Adaptor B accepts batteries from DeWalt, Milwaukee and Metabo power tools
Simply pull out the coloured tab for your manufacturers battery and slide it in place to power up!
When used with the Kanga Star 2.2K each battery pack powers the unit up to its full 2200 lumens, with runtimes dependent on the battery voltage and capacity. The 2.2K model has 3 lighting modes: High, Medium and Low power, and offers a 25-metre beam at full power.
The Kanga Star 5K and 10K models feature an adaptable power supply system for the ultimate flexibility on site. With Adaptors A and B accepting the same brands as the 2.2K model, the 5K and 10K can also be powered via their own 6000mAh battery (optional extra), giving them a runtime of 3-15 hours and 1.5-7.5 hours respectively. They can also be powered directly from the mains by connecting the AC adaptor (optional extra).
Alongside the convenience of a universal battery adapter system, customers can also benefit from the reduced shipping costs and delivery times for Kanga Star. The carriage of dangerous goods does not apply to the Kanga Star range as they are supplied without batteries (unless ordered separately as an optional extra).
ADAPTABLE, DURABLE LIGHTING
The Kanga Star range is designed for some of the harshest work sites being constructed from high-grade aluminium with rubberised edging and a tempered glass lens. As a robust lighting option, each model carries an IP65 dust and water ingress rating and is fully back by NightSearcher's 3-year, extendable warranty.
Each model is free-standing with its large footprint base. The Kanga Star 2.2K model also has strong magnets built into the base. The Kanga Star 5K and Kanga Star 10K models can be mounted on to a tripod (optional extra), and all 3 units feature built-in hanging hooks in the base.
OUTSTANDING FLEXIBILITY
Kanga Star is ideal for any workshop or work site with its interchangeable power supply system and mounting configurations. From garages to construction sites, Kanga Star has an unlimited availability to light.