14 Jul 2022
New! Pulsar NavStar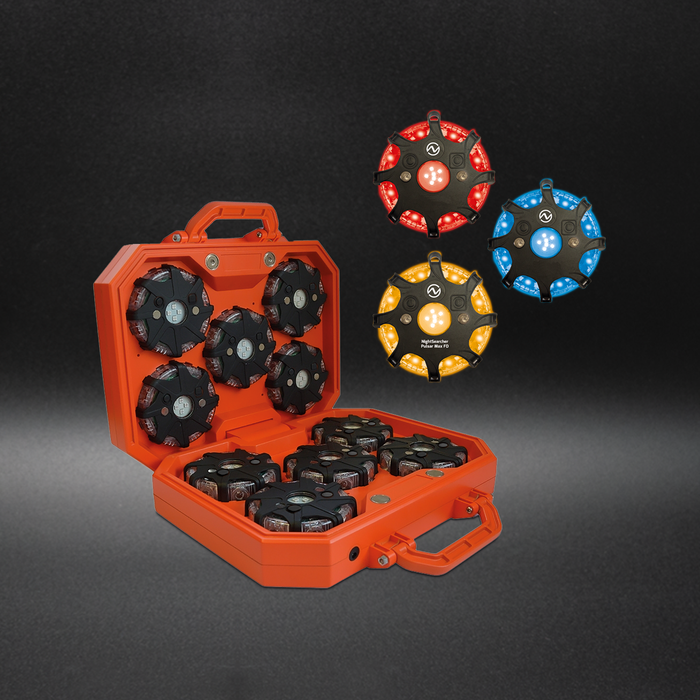 NightSearcher Pulsar Navstar Hazard Lights Set
NightSearcher new Pulsar NavStar, the latest model in our range of Pulsar hazard lights. The all-new Pulsar NavStar comes as a set of 10 sequential hazard lights, housed in a high-impact, shock resistant and reversible carry case.
ARRIVE ON SCENE FULLY PREPARED, FULLY CHARGED
Pulsar NavStar's durable polymer housing not only keeps the lights all together, but also fully charged when connected to the supplied 12/24V vehicle charger or 240V mains charger. They're charged and ready to go within 10-12 hours (from fully discharged) and offer a runtime of up to 72 hours - depending on the lighting mode used.
FAST AND SAFE DEPLOYMENT
Pulsar NavStar is designed with safety in mind. When stowed, the lights are contained within the carry case. Once opened, the double hinge allows the carry case to be reversed so that the lights are easily accessible from the outside.
When removed from the carry case, each light will automatically switch on and sequence with the previously removed light. Thanks to the internal memory of the NavStar, the flash rate and colour will be the same as it was when last used.
NavStar enables emergency services personnel to close off a hazardous area in quick time and as safely as possible. Acting as a visible cordon, each NavStar has a 360-degree illumination zone, which can be seen from over 1 kilometre away. The lights also project a vertical beam – making them ideal for drone and helicopter operations.
Packing up is just as quick and effective with automatic turn off when placed back in the reversible carry case. Whilst plugged in, the carry case distributes a charge to each of the ten lights.
INTELLIGENT LIGHTING MODES
With a simple two-button operation, you can choose between 6 flashing modes and 3 light colours, or combinations thereof. NavStar clearly indicates its charging status when connected to its AC or DC power supply by illumination of a red or green LED. The AC mains and DC vehicle charger are included as standard.
ENGINEERED FOR EXTREMES
NavStar's rugged design makes them the ideal solution for hazard lighting – the lights are crush proof up to 3 tonnes, carry an IP68 rating, and can operate in temperatures ranging from -40 degrees up to +60 degrees centigrade.
For UK use, Pulsar NavStar conforms to Schedule 13, Part 10: Traffic Signs Regulations and General Directions 2016 (TSRGD) when operating in blue and amber light modes, making them the ideal companion for the Police, Fire, and Search and Rescue services.
For wider European use, the Pulsar NavStar system also complies with BS/EN12352:2006 when in red or amber mode.