Closer to the scene: A look at how incident command units are improving emergency response for UK Fire and Rescue Services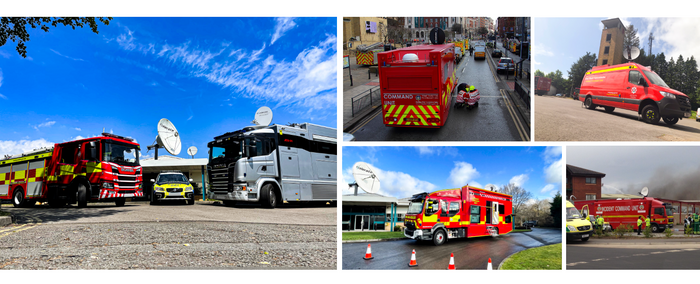 Hereford and Worcester Fire and Rescue Service (HWFRS) and Shropshire Fire and Rescue Service (SFRS) have acquired incident command units (ICU) as part of their emergency response strategy. These units allow incident commanders to have closer proximity to the scene, enabling them to provide enhanced support during critical situations.
The ICU's provide a reliable and secure communication platform between firefighters, incident commanders, and other co-responding agencies. They are equipped with an array of hybrid communications including satellite which is unaffected by geographical limitations or infrastructure disruptions, ensuring that emergency responders always remain connected.
HWFRS and SFRS also utilise drone technology that can provide an aerial view of any ongoing situation. Live footage can be shared from the drone back to the ICU and other authorised locations, enabling a wider audience to access a birds-eye view of the conditions on the ground. This allows for improved situational awareness beyond the drone pilot.
Additionally, the command software on-board provides a range of data, including mapping, GPS tracking, and more. All systems can easily be managed via the Digital Dashboard Management Interface (DDMI), ensuring that emergency responders can access the information they need quickly and efficiently.
Chief Operating Officer Bethan Evans said "We are incredibly proud of the ICU's we have delivered to both HWFRS and SFRS. These units have been specifically designed to support responders in critical situations, enabling them to have better access to vital resources and data at the scene of a range of incidents."
Incident command units are an invaluable asset for emergency response and help to improve communication, situational awareness, resource management and safety during any incident. As a result, Excelerate have become the technology partner of choice for many other services including Hampshire and Isle of Wight Fire and Rescue, Northamptonshire Fire and Rescue, Mid and West Wales Fire and Rescue, South Wales Fire and Rescue and more.