PVL brand the new St John Ambulance fleet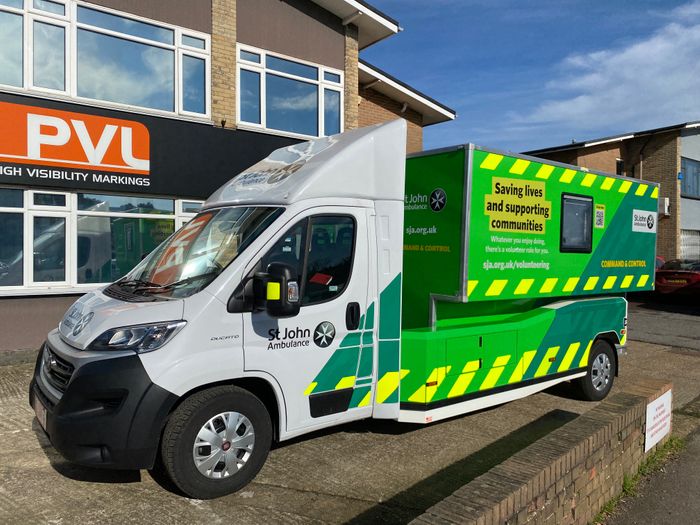 PVL brand the new St John Ambulance fleet
The volunteers at St John Ambulance charity have been committed to saving lives and keeping our communities safe since the 1800s.
An update to their branding coincided with investment in new equipment and an update programme for their extensive, nationwide vehicle fleet.
Amongst the first new vehicles commissioned were lightweight box body ambulance conversions and logistics vehicles, which they wanted to reflect the new brand image whilst being clearly identifiable as medical support vehicles.
Working closely with the fleet manager and their branding team, we advised and guided the development of a vehicle livery design that demonstrated best practice in emergency vehicle safety marking materials with their distinctive brand.
We combined multiple materials and production processes to create a cost-effective design providing high levels of visibility in daylight, dusk and at night, works across all the fleet, and will stand up to the demands in service of a frontline vehicle.
Our special printed reflective materials literally bring the brand to life when light is shone onto the vehicles, whilst the retro-reflective prismatic chevrons and side outline provide the very best levels of visibility, and vehicle identification when operating on our roads.
Working closely with the vehicle bodybuilders and convertors, we produced accurate digital templates for each vehicle design so that our material kits will be 100% repeatable across multiple vehicles as the new fleet is rolled out, and in the event of replacement parts being required through the life of the vehicles.
The high impact, new design has been really well-received, and St John Ambulance are rolling the design out across their brand-new fleet. You will be able to see them on the road very soon, saving lives – Mr Macintosh, National Fleet Manager at St John. Ambulance commented:
Robert Macintosh, Fleet Manager at St John Ambulance sums us up nicely:-
"PVL know what people want, they understand corporate branding more than any other people I have dealt with and that's why I used them for the branding on the St John vehicles.
We wanted a vehicle that didn't just look like an NHS ambulance so they took our branding and turned it into a design that showed how reflective it would be in the dark - that was a winner for me.
PVL always take into account that you are going to have to repair a vehicle at some point, so having the benefits of the repair kits readily available helps us to speed up the repair process. The new fleet branding is absolutely amazing and has been well received. Just like St John, PVL help save lives."