01 Mar 2019
The Range Reviews: aLOKSAK Bags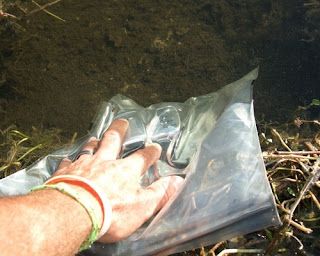 The Range Reviews: aLOKSAK Bags
Made by LOKSAK, aLOKSAK® bags are resealable element-proof storage bags, that hermetically seal with a slide and squeeze of the finger and thumb. That means absolutely no water, air, dust or humidity can get into the bag. Sort of like a Ziploc, but much better.

They are designed for a wide range of applications and environments. They come in multiple sizes ranging from 5" X 4" to 32" X 16". You can fit anything from a PDA to a rifle in these bags. The transparent bags are flexible and puncture resistant, and can be sealed over and over again. The unique and patented materials, closure systems and manufacturing techniques used to fabricate the aLOKSAK meet the most rigorous testing standards including those of the US Navy. The US Army Special Forces Group Dive Detachment also uses them to protect their valuable electronics from salt water and hot humid conditions.

Well if they are that good, let me put them to the test.

Will it leak?

So I got a little crazy. I took a couple of 5.56 rounds, a carbide blade sharpener, and a ball of tissue paper, and stuffed them into the 4.5" X 7" LOKSAK, and...

Washer filling up; LOKSAK up to the challenge.

Dumped it all in the washing machine.

Well, after the cotton/heavy cycle I am happy to report that no water made it into the bag. The tissue paper was absolutely bone dry. The bags are puncture resistant. With the beating it took in the washer, I was pleasantly surprised that bag showed no sign of abrasion from the carbide sharpener.

Kodak EasyShare Z710 inthe LOKSAK

Feeling much more confident I took the large bag, a 12" X 12", and put my Kodak EasyShare Z710 digital point and shoot camera in it. The Mrs has a Fuji FinePix F50 SE so I borrowed that, to take pictures of what I was about to do. I went to the lake and submerged my Kodak. Fiddling around with the controls from outside the bag, I was able to turn it on and take a few pictures, none of which came out in that pea green soup near the edge. But the camera didn't get wet, and you can take pictures through the bag. I'll be testing that capability further.



This is going to take some work to wring the picture taking bugs out.

After squeezing as much air out as possible, I found that a left to right squeeze and slide, and a right to left reiteration, made sure that the seal was 100%. This is important, as any lack of seal will allow water to penetrate. Yes it takes a few more seconds to do right, but it is worth it. I have read of failures with the bag, and I suspect that either an excessive amount of air was left in the bag, which then forced its way out through the seals, or the bag was not sealed properly to begin with.

Keeping valuables safe.

The LOKSAK has a myriad of uses. It works great for its intended purpose of keeping water out, but it also works just as well at keeping things in. Dehydrated foods can be rehydrated by pouring boiling water into the bag. It can be used to protect valuable items from weather or environmental damage.

So far, I really like the aLOKSAK. It performs as advertised, and does the job well. I Rate this another solid buy for those people that need to keep things safe and undamaged while outdoors.


And remember, it's made in the USA!!!