'Sandless sandbags' used in massive operations to defuse two World War Two bombs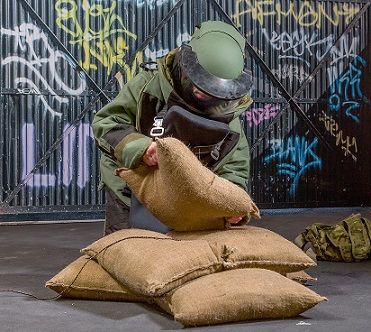 Around 500 BlastSax deployed during complex bomb disposal procedure
Pioneering sandless sandbags have been used by bomb disposal experts defusing two massive World War Two bombs.
Around 500 BlastSax were deployed by Hong Kong Police in the delicate operations on a construction site building a subway rail link in Hong Kong.
The BlastSax from Environmental Defence Systems Ltd based in Huddersfield, West Yorkshire, England, were used to surround the bombs to mitigate any blast and would also absorb some of the fragmentation. They are now deployed with armed forces worldwide.
BlastSax automatically inflate when they come into contact with water to become more effective than traditional sandbags within a few minutes. It means they can quickly be taken to the scenes of potentially major incidents, particularly those that are difficult to access.
Hong Kong police described defusing the second bomb as a particularly "dirty, difficult and dangerous" job due to precarious conditions on the site and heavy rain.
They needed to evacuate 5,000 people before starting the 24-hour operation to defuse the American bomb weighing around 450kg (1,000lbs) which needed supporting with BlastSax to stop it rocking.
Workers on the construction site discovered two bombs there within just five days – and the first took 26 hours to defuse. Police can't rule out more bombs being discovered as excavation work continues.
The bomb disposal experts cut through the device's casing and then burned off the explosives inside.
Police bomb disposal officer Alick McWhirter from the Explosive Ordnance Disposal Bureau said: "Bomb disposal operations are dirty, difficult and dangerous. In this particular case, all three were true.
"Because of rain the working conditions were not good. Because of the location it was extremely difficult to be able to access it. Because of the nature of the bomb's firing mechanism and fuses – one of which we couldn't even see – it was extremely dangerous for the officers engaged in the disposal operation."
The bombs are believed to have been dropped by US planes near the end of World War Two while attacking Japanese military facilities along Hong Kong's coastlines.
Experts said if the devices had gone off each bomb would have sent shrapnel flying up to 2km away and given off extreme heat of up to 4,000°C.
EDS Ltd managing director Richard Bailey said: "BlastSax have undergone stringent MoD tests to prove their effectiveness and are now used worldwide by both police and military and are essential equipment for those involved in the battle against international terrorism. They have really proved their worth during these two major incidents in Hong Kong."
BlastSax factfile
They are transformed from being as light as a pillowcase to more effective than sandbags in minutes.
Easy and space-saving to store in warehouses or on vehicles, BlastSax weigh just 700 grammes before being activated by simply adding water and then they become taut, weighing 20kg (44lbs) in around 3 minutes.
BlastSax have been shown to be more effective than sandbags at capturing fragments from explosive devices and helping forensic teams gather evidence.
They are a reliable protective barrier against grenades and bullets fired by the standard British Army SA80A2 rifle.
One person can carry 40 BlastSax at one time in dry state, equal to 800kgs sandbag weight.