21 Mar 2023
Soldiers put BlastSax alternative sandbags through their paces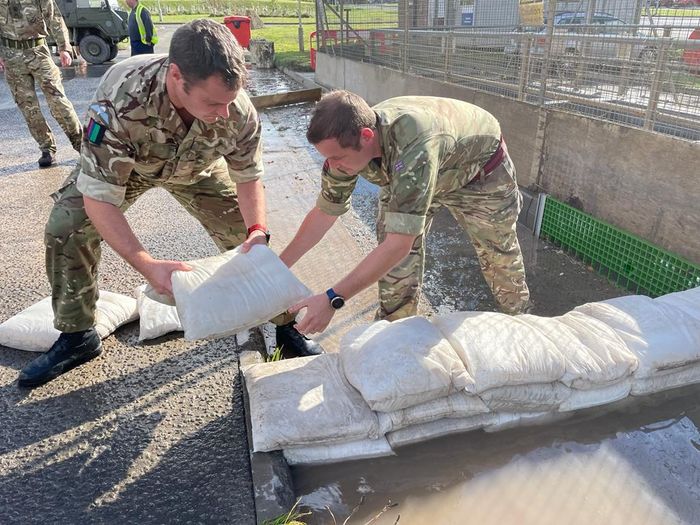 Soldiers put BlastSax alternative sandbags through their paces
The British Army has been testing and training with alternative sandbags which it displays to visiting armed forces from around the world.
The pioneering sandless sandbags called BlastSax are featured in a special showcase hosted by the British Army which shows armed forces and humanitarians worldwide some of Britain's very best inventions that have gone on to prove their worth in action.
A huge hangar at the British Army base at Larkhill near Salisbury in Wiltshire has been transformed into realistic sets from different warfare areas – desert, jungle, urban and rural.
The BlastSax are multi-purpose as they can be used to surround and mitigate the potentially devastating impact of improvised explosive devices and they can also be built into walls to give soldiers instant flood protection.
BlastSax, which have previously undergone stringent MoD tests to prove their effectiveness, are used by the military and police forces worldwide to mitigate the impact from improvised explosive devices and fragmentation.
Larkhill is visited every year by key military personnel from across the globe so is an ideal showcase to promote British products which other armed forces can buy.
Larkhill also hosts humanitarian delegations from around the world so it also showcases FloodSax sandless sandbags which were devised and are made by the same Yorkshire company which manufactures the BlastSax, Environmental Defence Systems Ltd.
Both BlastSax and FloodSax are incredibly thin until they are immersed in water which they absorb and a gelling polymer inside them retains the water so they expand to become instant sandbags but without any sand.
In their dry state they are vacuumed-packed so are very space-saving to store and transport – a box of 20 BlastSax or FloodSax fit into one easy-to-carry box whereas sandbags needs lorries and plenty of personnel to take them anywhere to deploy.
The FloodSax are for emergency civilian use. As well as being used to stop floodwater getting into homes and businesses, they are incredibly flexible and multi-functional which means that in their dry state they can soak up leaks, drips, spills and floods inside, especially in hard-to-reach spaces such as under floorboards. They are ideal for flood prevention and flood mitigation.
The Larkhill display is staffed by soldiers from the Export Support Team (EST) who can explain just how the equipment has been used when it counts - in action - and how it stood up to that ultimate test.
According to UK Defence and Security Exports: "The Export Support Team is a 27-strong cohort of regular British Army officers and soldiers who possess a wealth of knowledge and experience both on operations and in the training environment. It's our mission to provide specialist military services and advice to UK defence and security companies, helping them to succeed in the export market."
The Export Support Team is a department of UK Defence and Security Exports which is part of the Department for International Trade.
According to Defence Focus magazine: "The soldiers provide the companies with a trustworthy, educated voice on kit that is either already being used by British forces or inventions that are new to the market. Authoritative military advice can help facilitate million-pound deals for UK companies."
BlastSax sales director Richard Nikolic said: "Working with the guys at the Export Sales Team has really helped us get a foothold with the BlastSax and gives us a shop window to the world. Now we have BlastSax on permanent display in the urban zone it can only accelerate our market penetration even further.
"The FloodSax display also shows humanitarian delegations just how the same technology can save flood damage on a massive scale. Climate change is showing us that the world's weather is changing and in many places, including the UK, it's only going to get wetter with far more serious flooding incidents."
Almost 3 million FloodSax sandless sandbags have now been sold worldwide.