29 Jul 2021
The Civitas MDU Debut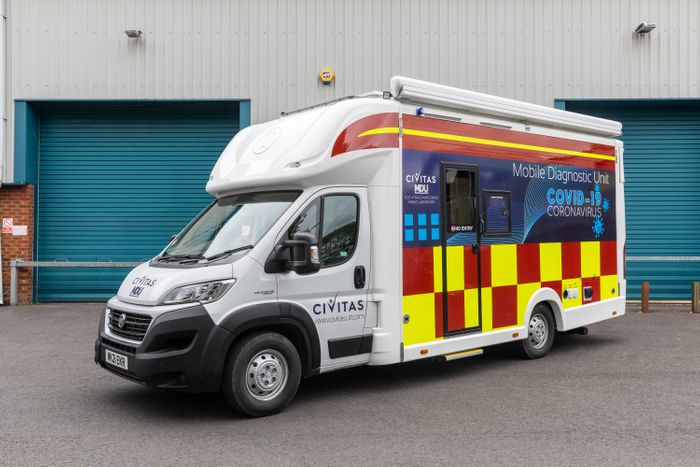 The Civitas MDU, Mobile Diagnostic Unit, makes its UK debut at the Emergency Services Show 2021.
This Civitas MDU represents the Gold Standard in rapid deployment medical mobile units to meet a whole host of applications including Covid Test & Trace, Vaccination and Laboratories. At the same time the MDU is proving to be an attractive alternative for treatment of out-patients in a completely new way. Keeping vulnerable out-patients away from potential covid hotspots by taking treatments to their door.
The Civitas MDU is the only coach-built non-HGV vehicle in its class that can accommodate a whole range of specialist equipment that can work safely and totally off grid due to its solar panels, generator and Lithium Battery Power Pack.
The lessons learnt from the deployment of over 600 specially built Covid vehicles have all been taken into consideration when designing the Civitas MDU. Some of the key USPs include the use of high gloss gel coated insulated GRP to provide a seamless hygienic finish, all other surfaces are highest grade stainless steel and hospital grade Polyflor so that the unit meets the highest standards for infection control.
Each MDU can be fitted with an unique air filtration system by ISG which can guarantee 10 air changes every 12 minutes. The Civitas MDU is the only vehicle in its class with its own welfare cubicle for changing. It has instant hot and cold running water both inside the vehicle and outside within the awning area. All contaminated waste is collected via 2 sealed 60 litre waste disposal bins and a 100 litre wastewater tank.
The Civitas MDU can be tailored to suit any medical treatment including disabled access doors and ramps. The awnings provide an ideal holding area for patients awaiting treatment or can be easily adapted for Covid testing, vaccinations or Covid testing Laboratory. The vehicle is also Made In Britain, built to the highest quality standards.
Civitas have partnered with Butyl Products Group & The Awning Company UK Ltd and other market leaders in the specialist fields of coach-building and medical diagnostic equipment to arrive at a finished product that will give all the year-round multi-functional use in this difficult Covid pandemic times and beyond.
Butyl Products Group have over 5 decades of experience with Emergency Aid packages and were at the forefront of the DHSC's initial Covid testing campaign in 2020 with the first generation MTUs and more lately the DHSC MPUT programme (mobile test labs). In addition they have current contracts with Clinical Commissioning Groups (CCG) around the country for their Covid 19 Pedestrian Test Kits (PTK) all of which will be displayed at the show.
The Awning Company UK Ltd were the sole awning provider for all the DHSC's MTU & MPUT programmes and have over 50 years experience in the industry. Along with Butyl and all its other commercial partners Civitas is proud to display their unique MDU at The Emergency Services Show for the first time.
We welcome you to come and see us on Stand H89
W: www.civitas.uk.com
E: sales@civitas.uk.com