Tornado B110 & B150 Beacons Launch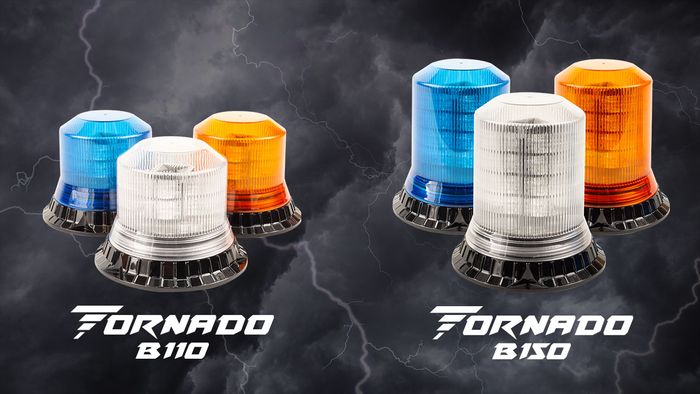 Redtronic launches NEW Tornado B110 and B150 Beacons
Redtronic, is a UK manufacturer of visual and audible warning systems leading the industry through innovative warning and safety solutions for emergency and safety services. Today Redtronic launches the NEW Tornado B110 and B150 beacons which are available in two size height variants, 110mm (B110) and 150mm (B150).
Unlike many beacons on the market Redtronic's are manufactured to highest standards right here in the UK! This enhances our response time meaning we can offer short lead times and a quick turnaround to our customers. Up until now, Redtronic have been missing this style of beacon from their range so we hope you are as excited as we are to see their latest product introduction.
Key defining features include:
CISPR-25 level 3
Auto DIM (night and day)
ECE R65 approved class I (blue and amber) class II (blue)
Dekra Speed Rating: 146.6mph (236.2km/h) mag mount
IP69K protection against dust and water ingress
CAP168/ICAO airport flash pattern
Multiple mount options available
Ultra-bright latest generation LED's
Aluminium heatsink
11-32VDC operation
EMC R10 compliant
Multiple mount options available
Clear, amber and blue leas options
Michael Shaw, Product Manager at Redtronic highlights: "The Tornado B110 and B150 beacons are a huge leap for us at Redtronic, enabling us to offer very competitive feature packed products into the beacon market. We recognised the vast potential in the market but it was also clear that many of the popular choices of beacons customers fitted to their vehicles were lacking today's design potential, we saw this as an opportunity to enter the market with two NEW beacons with features seen compared in larger products such as lightbars. We are extremely happy with the finished outcome, two beacons in two different height sizes to accommodate small to large vehicles or personal preference. The B110 and B150 beacons are EMC R10 and ECE R65 approved, are available with blue and amber LEDs with the choice of multiple lens colour options. They are also CISPR-25 level 3 rated to further limit radio disturbances to protect off-board and on-board receivers. Included as standard is an auto DIM photosensor module which can be activated or left deactivated at the users' preference or this can be dimmed alternatively with a wire. The Tornado B110 and B150 beacons come with 3 different mounting options, hard-wired 1 bolt, 3 bolt options and a Dekra speed rated magnetic version which includes a straight cabled cigarette plug. To further provide exceptionally designed beacons to the market, the B110 and B150 also come IP69K dust and water resistant to ensure a long-life product that is up for the toughest of jobs and environments. We are very excited to see our new Tornado beacons on vehicles soon, protecting lives of the public and the professional workers who depend on them".
Redtronic products have been serving the toughest jobs around the world since 1983, protecting workers and the public in almost all industries. Many customers may not be aware that they are using a Redtronic product due to the fit-and-forget design, and the highest standards of quality offering a long product life as if part of the original vehicle design.