16 Mar 2022
Our work with the Police Service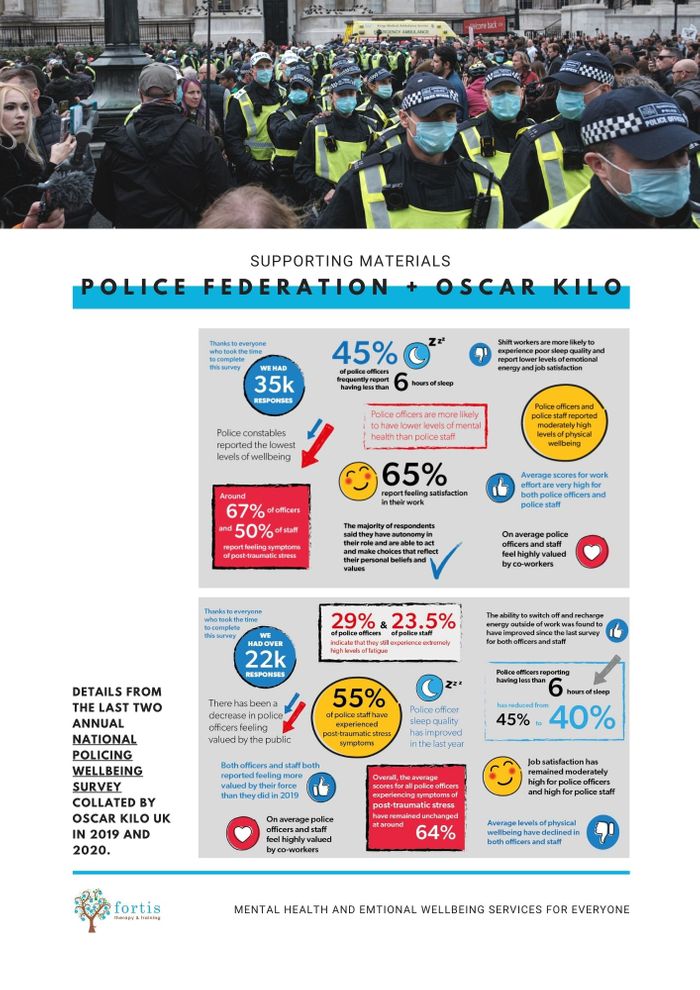 What those working in the Police say about our work
Peter Thorp, Detective Superintendent, PVP Performance and Governance, South Yorkshire Police: "Working closely with Fortis and Alexis for the last 3 years has been a fantastic and enlightening experience, personally and for the Police Federation as an organisation. We first came together to look at how we could better support officers and staff working in some of the most high risk and high stress roles at Humberside Police. This led to a new approach to how the teams were engaged, lead and supported.
"The innovative and professional approach you get with Fortis led us to a specific training package entitled 'Keeping The Peace'. The training has been the most successful, well-received training we have ever done.
"Officers and staff trained in Keeping The Peace 1 sat at around 240 in the Protecting Vulnerable People Unit and 200 in the Control Room. With Keeping The Peace 2 was around 200 in the Protecting Vulnerable People Unit.
"Support to the DFU (Digital Forensic Unit) as a follow up to Keeping The Peace saw Fortis work with a smaller team of around 20 officers and staff in a particularly high risk and challenging working environment – they have to view child sexual abuse imagery on a near daily basis. The work was to ensure that the challenges faced by the team were understood in greater detail to allow an additional enhanced support service to be given to them.
"The Keeping The Peace training we worked on and developed with Fortis provided everyone in my previous team with a huge opportunity, one through which they have all looked at their own self-resilience. Following the training they now have the tools to manage stress, and all the other things that come as part and parcel of our job, in a much better way. It gave the teams the opportunity to talk about whatever they wanted and needed to, to senior management, discuss any issues they wanted to raise.
"It's an exercise which led further, on to separate sessions with senior leaders which, in turn, resulted in an action plan coming to fruition to address the changes our teams wanted to see. The changes they needed to see. And, real change has come out of Keeping the Peace. This training now also forms part of a national resource designed to support police officers and staff working in investigative roles across the UK and is a leading example of personal resilience training offered to policing.
"But Keeping The Peace has resulted in much more than change in just the Humberside area where I worked prior to South Yorkshire Police. During the pandemic Alexis and I both had the same brainwave, at about the same time - 'let's make a police wellbeing podcast'.
"The podcast series, also entitled Keeping The Peace, was created in collaboration with Oscar Kilo - the national police wellbeing service - and touched on various themes that come up in the training, however this time told through the stories of real police officers. It was created in such a way that not only can police officers benefit, but anyone can listen and take snippets of information away with them - things that will genuinely help and support.
"We were thrilled to find it was a hit - with those in the force and outside of it. People across the entire globe, listened in. Series two was then released week-on-week with those working in forces across the UK taking part - firearms officers from the Met, safeguarding officers from Merseyside, traffic officers from Yorkshire.
"It's fantastic that more and more people are starting to see how Keeping The Peace can help. For it now to be recognised on a national level within the Police Force really is a huge achievement.
"The training has helped us as leaders in the force to understand what causes stress and how our officers deal with it alongside the other issues they face.
"It's allowed us to improve our approach to wellbeing through a trauma-informed environment, promote reflective practice and offer an entirely more meaningful wellbeing package. Fortis has really helped make that package more tangible to our teams.
"One of the reasons we keep working with Fortis is that if we are thinking about something different or not sure how we can implement something new, they seem to already know the answers and are keen to spend time talking through ideas and offering guidance and advice before.
"We are now working on Trauma-informed Practice and how we can use these techniques to ensure that we deliver the best possible service to victims. This remains a new and innovative approach and I am confident with the support of Fortis and Alexis we will quickly inform and upskill our staff across the Service.
"Away from Humberside, Alexis has supported the NPCC National Wellbeing of Investigators Group, with invaluable knowledge and expertise around wellbeing themes and an important conduit in linking policing on a national level to other organisations and businesses allowing the sharing of good practice, knowledge and ideas.
"Fortis and Alexis' involvement in the national wellbeing of investigators toolkit has led to some of the work started in Humberside now trickling wider to other forces, an example of this is South Yorkshire Police which is now actively looking at the services Fortis can offer, not just around the Keeping The Peace model, but in relation to reflective practice training, trauma training and the concept of Alexis' support as a wellbeing guardian to the force."
Dr Ian Hesketh, SRO – National Police Wellbeing Service, Workforce Development, OSCARKILO.ORG.UK: "Having shared a stage and seen the impact on police personnel first hand it was not difficult to see the value in adding Fortis Therapy & Training to the National Police Wellbeing Service (NPWS) offering.
"The two podcast series (Keeping The Peace) has undoubtedly been a huge success. Each series complement the core offering of NPWS, are evidence-based, high quality and, above all, a trusted resource for emergency service workers.
"Our data analytics have provided us a snapshot of the site traffic they have attracted, and their practical and positive focus has clearly added great value to our service provision.
"Also, during lockdown last year, we commissioned two webinars from Fortis. One about 'The Masks We Wear' - recognising the differences between each uniform and role within the Service, shining a light on what's going on underneath - and a second, 'The Duty of Self-Care', which utilised the headlines from the Keeping The Peace training further looking at self-care in regard to it being an organisational duty but also our own individual duty, not forgetting addressing and recognising what self-care actually means.
"Both webinars were incredibly well received by officers and staff, with more than 100 people attending each one. Furthermore each webinar now forms a part of our internal resource library, still being accessible online on demand."
IAN SPAIN, Deputy Secretary and Misconduct Team Leader
Humberside, POLICE FEDERATION, CHAIR OF THE WELFARE AND BENEVOLENT FUND: "I have worked with Fortis Therapy and Training in numerous ways through both Humberside Police Federation and the Welfare and Benevolent Board.
"When the team and I have members of either organisation referred to us for assistance, we have no hesitation in contacting Fortis as a working partner. They really are important in helping members deal with any issue. This can run alongside legal assistance or insurance matters and is a core resource for our organisations.
"For example, while dealing with a member's death within a group insurance life claim, we can also offer bereavement counselling to any children within the household. This perfectly complements an all-round service we hope to provide.
"I am aware that at least two members have been sent with extreme personal safety issues and due to the intervention of the Fortis Team, they are still with us and out of danger now. There can be no higher praise than that.
"They also have assisted in members who are off sick with trauma, either personal or professional. Utilising the Fortis expertise means that the members, all of whom are public servants, can return to work much quicker and safer, and can manage themselves correctly.
"Alexis and the team also work with the Humberside Police Federation reps, when a critical incident has presented itself involving officers, as well as with the chairs of the Federation and the Welfare and Benevolent Board, presenting annual feedback and training which looks at issues such as Menopause, Boundaries, Mental Health, Self Care and Culture based on the themes that come out of officer therapy sessions.
"Regarding the service that Fortis Therapy and Training provides to our organisations, I can say without reservation, we have had 100% positive feedback from the members we have sent to Fortis for assistance. The speed of the first assessment meeting, the risk assessment, and follow up appointments are all arranged and always fulfilled.
"They have a variety of specialists and there is no subject matter I would hesitate to contact them about. The coaching and professional management skills training delivered to the chairs and leaders has reorganised bad working patterns and made many managers more efficient and realign the true work life balance to achieve real successful careers with personal wellbeing. This leads to sustainability and longevity.
"This has practically helped in the mental health of those sent for direct assistance, and Fortis have trained our representatives in identifying issues while interacting with members. The ease of use from an administrative angle and the approachability of the staff and friendliness help in the smooth running of the business side.
"This partnership has made our organisations far more efficient and effective and offers professional practical help when the members most need it.
"We have also asked Fortis to present our hard-hitting film 'Purpose'. Due to the work we have collaborated on together asking Alexis to introduce, draw out and discuss the main themes, conclude and signpost the film was a no-brainer. This will be available to both officers and the public later this year."