29 Jul 2020
'All in one' warning solution for emergency vehicles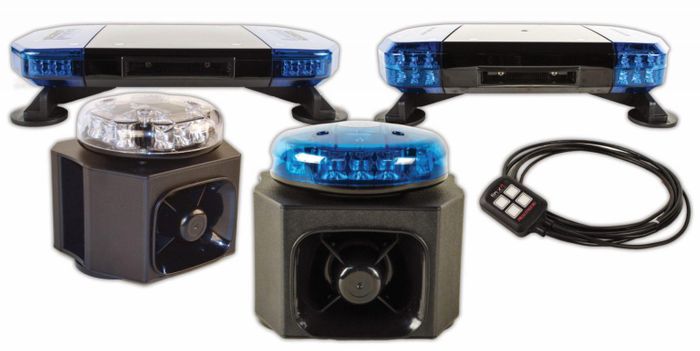 Redtronic's temporary magnetic and suction mounted emergency warning products, which include the DSFX-X, Spartan-X and Tornado-X, are in high demand by the emergency services not just in the UK, but also through EMEA and the rest of the world as we all combat the Coronavirus.
Many of Redtronic's customers, new and existing, have recognised the urgency of reactiveness to the pandemic by being able to kit out temporary support and emergency vehicles with warning awareness products at a fast rate. This is where the company has been able to support the emergency services with its 'all in one' solution across three different product profiles – Tornado-X beacon, Spartan-X mini-lightbar and a DSFX-X mini-lightbar – to ensure there is a solution for any type of vehicle.
In addition to being a magnetic and suction mounted solution, Redtronic X products also include an in-built siren and speaker as standard along with different power and control options, including the company's revolutionary customisable LINX4 Series hand-held controller and cigarette plugs with built-on switches. The Redtronic X products can also be ordered with multiple lens and LED colour options and include a safety lanyard. All of its magnetic temporary mounted products are DEKRA speed rated up to 146mph to ensure the product remains safely on the vehicle, even in emergency situations. Also, Redtronic X products are so robust and well-designed that the company has endorsed the range with a five-year comprehensive warranty.
The Redtronic DSFX-X, Spartan-X and Tornado-X products are designed and tested to meet industry requirements, being R65 Class II certified, EMC R10 compliant all thanks to the company's ultra-bright latest generation LEDs and its popular wide-angle FX Optics, while also being IP rated to protect against dust and water ingress.
Redtronic is committed to continuously developing its products to meet the hard-working professionals who rely on them around the world. The company's passion is heavily invested into its desire to produce bespoke solutions for its customers with a very successful turn-around time frame thanks to its innovative research and development team.