06 Sep 2023
Crib Gogh Rogue Reporter - Plate Carrier System for Press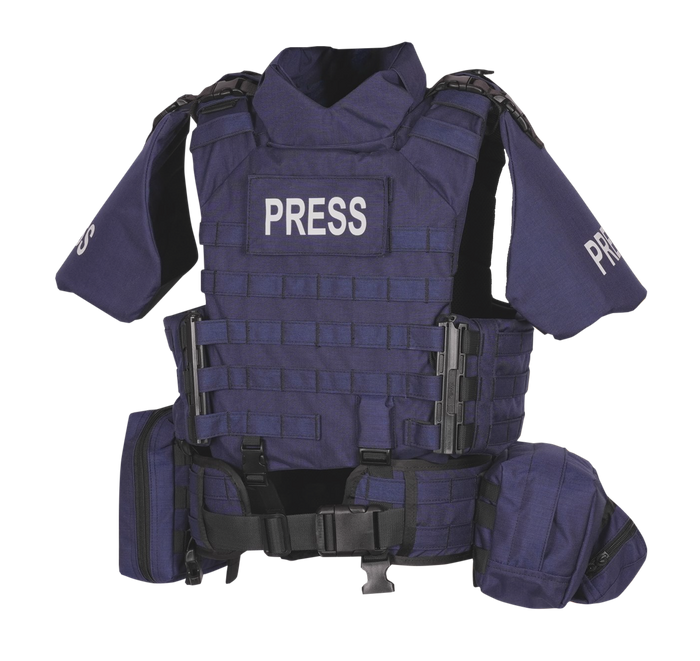 Based on their Rogue LE plate carrier, the Crib Gogh Rogue Reporter is a ballistic protection'load carriage system designed for the Press/TV crews.
Available in five sizes from XS to XL, the Rogue Reporter is a modular protecton solution. The basic vest features front and back panels plus quick release side panels that give 360 degree protection against handgun rounds/fragmentation only or handgun/knife/fragmentation. You can further upgrade protection levels with front/back hard armour plates rated up to 7.62x51 with the option for higher levels, if required.
All surfaces feature MOLLE webbing for the attachment of pouches, lights etc. A Quick Release Hip Belt with more MOLLE can be attached for extra carrying capabcity.
Further add-ons include upper arm protection panels and a neck protector is also an option.
The soft armour and hard armour plates are manufactured by UK ballistic armour manufacturer United Shield International. All armour is fully certified to Mome Office 2017 standards.
Designed with input from the Royal College of Physicians, the Roge Reporter is designed to maximise comfort and reduce strain on the spine.
You can meet the team from Crib Gogh/United Shield on the Thomas Jacks stand Hall 5 - Stand E118.