D3 PRD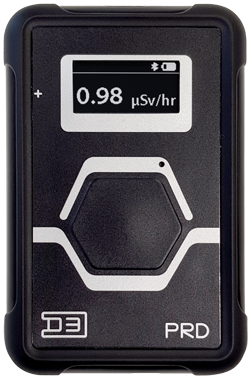 The display screen shows dose rate, accumulated dose and the alarms when exposed to a threat. It shows the battery level, bluetooth connection and health and performance of the detectors. It alerts you via audio and haptic (vibration) alarms of the threat and helping to keep you and your team safe during your mission.
We don't think anyone should have to make do with a small detector. The D3 PRD houses a detector 16 times the size of some of our competitors. The large detector volume allows users to detect isotopes two times faster, two times further, the localization of isotopes is twice as fast and it has an extremely low false alarm rate.
The D3 PRD's industry-leading ultra-low false alarm rate is more than six times better than the ANSI standard which means less time wasted with nuisance false alarms that can occur with some basic PRDs. It also means the operator is more able to trust the information the device is giving them because when you get an alert it is more likely to be the real thing.