15 Jul 2022
Diphoterine® Grab Bag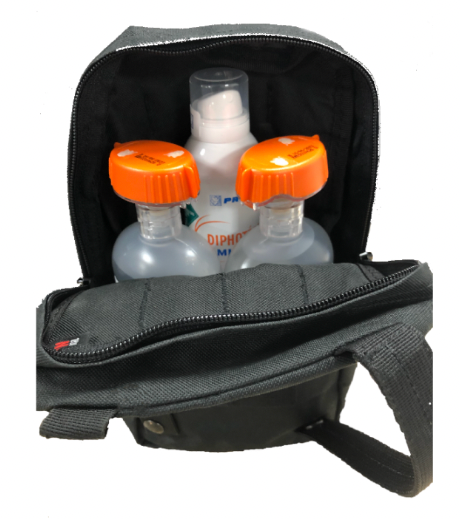 A versatile kit for emergency chemical first aid following a chemical splash.
Diphoterine® solution is suitable to decontaminate the skin and eyes following contact with corrosive or irritant chemicals.
The kit consists of a black nylon grab bag containing:
2 x LPMD - Mural Eye wash Bottle (500ml)
1 x MINI DAP - Skin Spray (200ml)
The LPMD - Mural Eye wash bottle is sufficient to decontaminate one eye.
The MINI DAP spray is sufficient to decontaminate 9% TBSA eg thigh, half a torso.
Fully portable
Easy to identify
Easy and ready to use
Allows a quick response
Soft and autonomous rinsing without pressure
Sterile solution
Individual items sealed to ensure the integrity of the system
Easy control of the rinsing efficiency
Does not require a specific installation and maintenance
Complies with EN15154
CE Marked
Class 11a Medical Device
Phosphate Free