GTL ESD Lightweight Gas-Tight Suit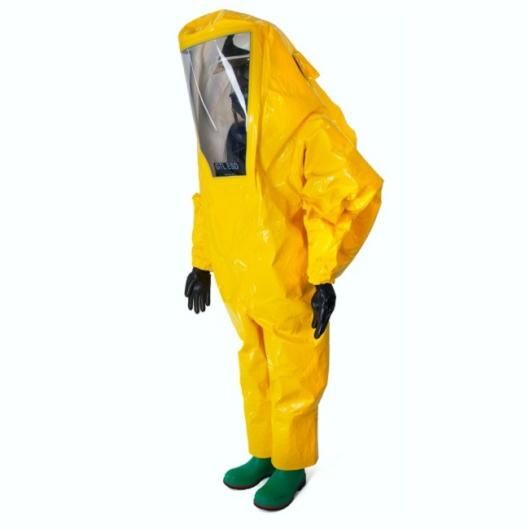 The fully encapsulating GTL is a Type 1A - ET limited-life gastight suit designed to protect the emergency responder against toxic, corrosive gases, liquids and solid chemicals.
The GTL suit is manufactured in Chemprotex™ 400, a high performance multi-layer nonwoven chemical-barrier fabric, in a high visibility yellow colour. This suit represents the latest in gas suit protection and is lighter in weight than limited life suits currently available.
Electro-Static Dissipative construction enables the suit to be used in potentially explosive (ATEX) atmospheres - see ATEX zone details below
Fully encapsulating design for breathing apparatus worn inside the suit
Heavy duty 122cm (48") long gas tight zip, fitted to the right hand side of the suit - flap with a hook and loop fastener fitted to cover the teeth of the zip
Adjustable internal support belt and bat-wing sleeves for optimal wearer comfort
Flexible, multi-laminated, anti-mist visor giving clear undistorted vision
Two covered exhalation valves maintain a comfortable working pressue inside the suit
Seams welded and taped for maximum performance
Kemblok™ chemically protective laminated inner glove welded to the suit material with an elasticated over sleeve to prevent splash entering the attached Honeywell® Butoject® outer gloves
Integral sock feet with conductive pads and outer splash guard legs - must be used with ESD footwear in ATEX environments, e.g. Hazmax™ FPA ESD boots
Ten year total shelf life; The first seven years are maintenance free, with the option to extend the suits shelf life to ten years with a visual inspection and pressure test at year seven
Tested to EN 1073-2:2002, Class 3 with an NPF >9090
Tested to EN 464 prior to despatch for leak-tightness
TYPE 1A EN 943-2:2002(ET) Material tested for the 15 chemicals listed in EN 943-2:2002(ET)
FINABEL 0.7.C Chemical Warfare Agents
EN 14126:2003 Protective Clothing Against Infective Agents
Tested in accordance with EN IEC 60079-32-2:2015 and CEN/CLC/TR 16832:2015 for use in the following ATEX environments:
Dust Ex atmospheres: ZONES 20, 21 & 22
Gas Ex atmospheres: ZONES 1 & 2