Gym Gear Dumbbell Set - 12 Pairs - 2.5kg - 30kg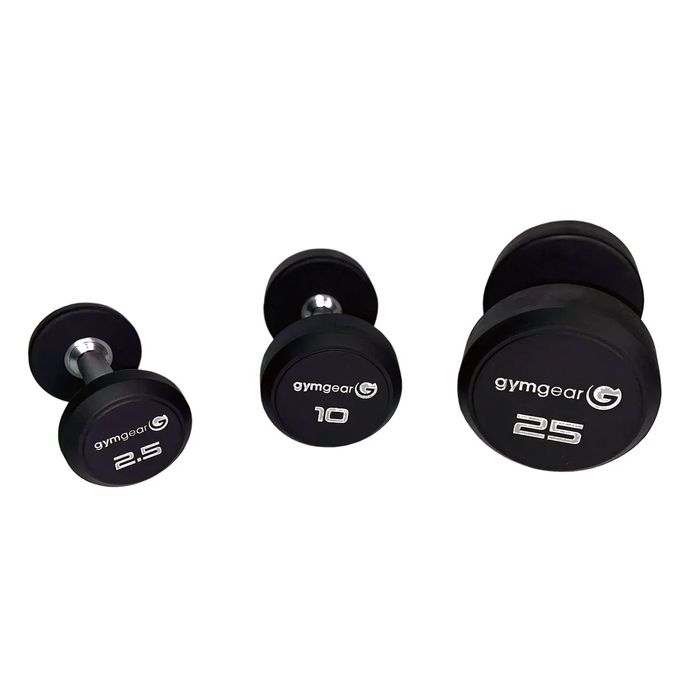 The fully commercial Gym Gear Dumbbell Set are made to last. The solid steel construction complete with virgin rubber coating makes for a strong, highly durable piece of kit that won't chip or crack. The dumbbells are solid steel weights pressed onto solid steel handles under 5 tons of pressure to ensure the tightest possible fit, which is then machine welded so it will never come loose. The handles are chrome coated with the correct depth of knurling to enhance grip and promote comfort and safety.
Product Features
Simple modern design that will suit any commercial or home gym.
Easy weight identification.
Solid steel core and black virgin rubber coating for ultimate durability.
Machine pressed under 5 tons of pressure and machine welded.
Knurled easy-grip handle.
End cap customised branding available (minimum order quantity applies – please enquire for details).
Set Contains
1 x 2.5kg set
1 x 5kg set
1 x 7.5kg set
1 x 10kg set
1 x 12.5kg set
1 x 15kg set
1 x 17.5kg set
1 x 20kg set
1 x 22.5kg set
1 x 25kg set
1 x 27.5kg set
1 x 30kg set