Gym Gear Pro Series 3 Station Multi Gym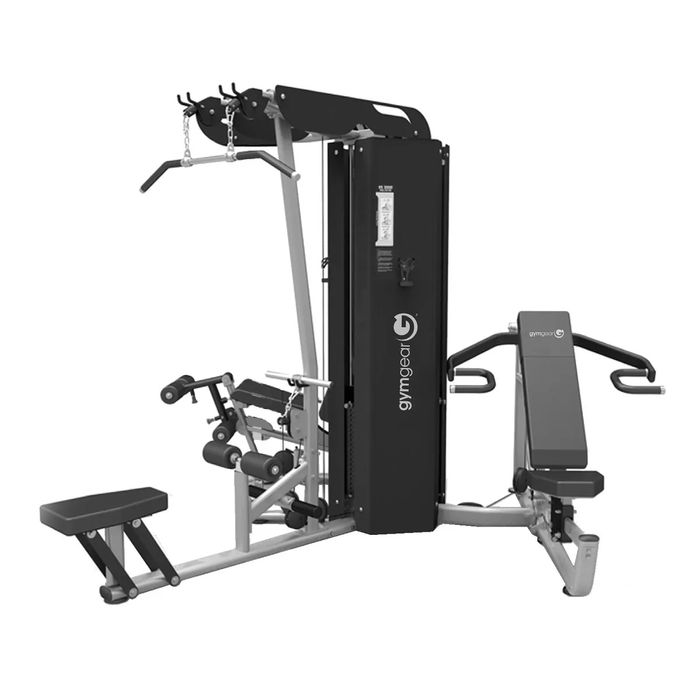 The Gym Gear Pro Series 3 Station Multi Gym offers effective weight training solutions to maximise even the most compact spaces. Whether you are an experienced athlete or a complete beginner, all 8 pieces in the Pro Series range are designed to offer a quick, straightforward and easy access workout.
Sturdy and stable, the Pro Series 3 Station Multi Gym is the perfect solution for any home gym or commercial fitness facility. If you have the room for this multi gym it's the perfect full body workout solution. In a commercial gym these multi gym's give people the ability to work out at the same time using different sections of the multi gym. The 3 Station Multi Gym is ideal for a wide variety of safe and effective upper and lower body exercises, this space-saving machine optimizes floor space and offers infinite training programs / workouts.
Station 1 – Multi Press (Adjustable press arms coupled with adjustable back support)
Station 2 – Lat Pulldown / Seated Row
Station 3 – Leg Extension / Leg Curl
Product Features
Fully shrouded weight stacks create a clean looking yet safe main column structure.
Adjustable foam pads allows for desired pull down start position and simultaneously act as a knee stop when performing rows.
Easy pull pin selections for different positions and a marking window showing what number of position you are.
Adjustable upholstered shin and ankle pads provides comfort and stability to any size user.
Adjustment features conveniently located on the inner side of the machine for easy access.