Heat Stress Trackers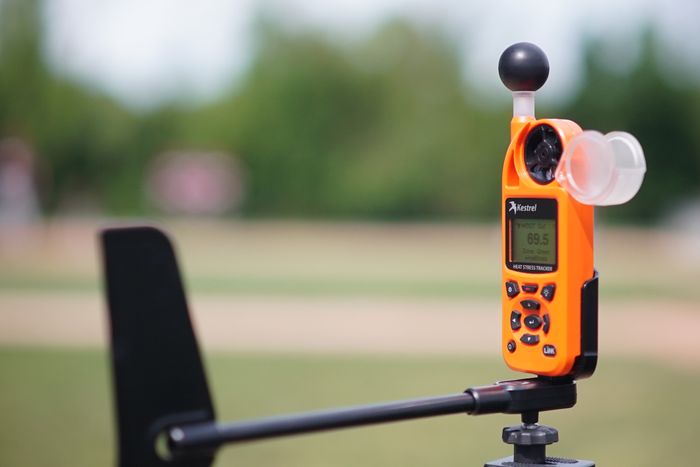 The Kestrel 3000HS is the perfect choice for health and safety professionals, coaches, athletes and those exposed to hot and humid conditions. The Kestrel 3000HS takes accurate relative humidity readings, calculates dew point and delivers heat stress index findings that can be used in conjunction with the included Kestrel Heat Index Reference Guide to ensure you make the right decisions when determining safe work and exercise limits in hot and humid conditions and ensuring rest and rehydration intervals are timed correctly.
The Kestrel 5400 is a highly accurate handheld, portable, WBGT (Wet Bulb Globe Temperature) measurement device and environmental data logger. It requires no distilled water, bulky globes, complicated setup or expensive equipment. Simply hold or place the Kestrel 5400 at the location required and immediate and average WBGT data will be stored and displayed. You can set thresholds and will be made instantly aware if they are exceeded by a loud buzzer, bright LED beacon and on-screen warnings enabling you to manage dangerous conditions quickly and with accurate information at hand.
The Kestrel DROP D2 Heat Stress is an extremely durable and easy to use temperature and humidity data logger, you can access data and chart real-time using the free Kestrel Connect App and download data in .csv format. The DROP D2 HS logger is IP67 rated (30-minute submersion at 1m) and MIL-STD-810G drop tested making it ideal for remote locations, inside or outside. The Kestrel Connect App allows data to be viewed from your connected device up to 100ft away.
Learn more about heat stress offerings: https://r-p-r.co.uk/kestrel/heatstress.php