15 Jul 2022
Hexafluorine® Kit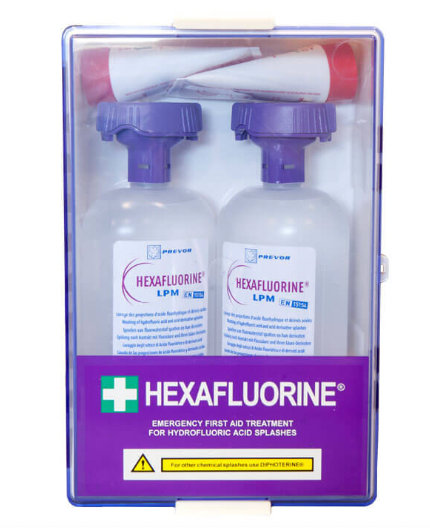 Hydrofluoric Acid and its derivatives have both corrosive and toxic effects.
Hexafluorine® has been developed to decontaminate tissue effectively managing the corrosive and toxic risks. Safe for use on skin and eyes.
The risk of contact with HF and its derivatives should particularly be considered in any incident involving Li-ion batteries eg fire, RTC etc
A kit for emergency first aid following a small chemical splash of Hydrofluoric Acid or its derivatives.
Kit consists of a protective case with wall-mounting attachment and contains:
2 x LPMF - Eye Wash Bottle (500ml)
Each eye wash bottle is sufficient to decontaminate one eye or small skin splash.
The kit also contains
2 x Calcium Gluconate Gel (40g tube)
The Calcium Gluconate gel is to be used as directed by a medical professional. To be applied directly to the affected areas.
Calcium Gluconate gel should not be applied to the eyes
Fully portable
Easy to identify
Easy and ready to use
Allows a quick response
Soft and autonomous rinsing without pressure
Sterile solution
Individual items sealed to ensure the integrity of the system
Easy control of the rinsing efficiency
Does not require specific installation or maintenance.
Complies with EN15154
CE Marked
Class 11a Medical Device
Phosphate Free