PAFSS Fire Suppression Systems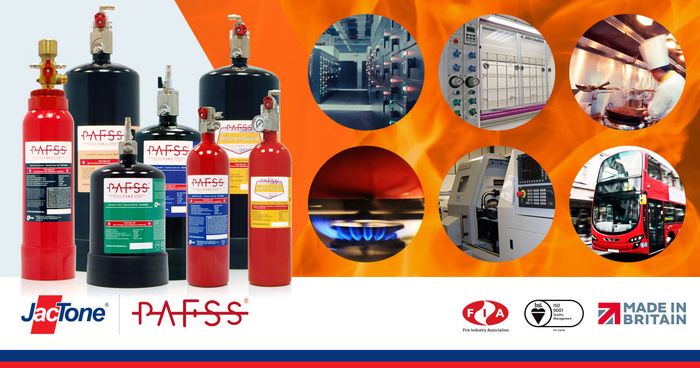 There are many situations where dealing with a fire at its source will minimise the damage to valuable assets and enable a quicker recovery of operations. It is for these situations that we developed Jactone PAFSS automatic fire suppression systems.
PAFSS (Pneumatically Actuated Fire Suppression Systems) detects automatically at the source of a fire and suppresses it early before it can develop further and spread. PAFSS systems offer peace of mind for those looking to protect their assets and personnel from the risk of fire.
PAFSS is available in a wide range of fire suppression solutions, including for the following applications:
Electrical enclosures
Laboratory Fume Cupboards / Hoods
Commercial Kitchens
Residential Kitchens
CNC Machines
Bus and Coach Engine Bays
Easy to Install
PAFSS is simple to install and maintain on both new and existing equipment.
Automatic
PAFSS offers a fast and automatic operation from the initial detection of a fire, through to suppressing it.
Reliable
Our UL listed highly reliable detection tube remains unaffected by dirt, dust, debris and oil. PAFSS has vibration resistant push-fit detection tube fittings.
Flexible
The detection tubing allows for an unlimited number of fire detection
points. Its flexible nature means it can be located adjacent to identified risk areas, providing fast effective detection.
Early Intervention
The early intervention of a PAFSS system can often prevent the release of a larger room suppression system, saving on expensive refill costs.
No Electrical Power
PAFSS requires no power supply for detection or actuation, remaining operational during power interruption.
System Monitoring
Integral pressure switches allow remote system monitoring and initiation of safeguarding actions.
Quality Components
Superbly engineered specialist valves and pressure vessels. Stainless steel discharge pipework, fittings and nozzles.
https://www.jactone.com/pafss/