23 Aug 2022
Photonis TacFusion Fused Low Light/Thermal Imaging Binocular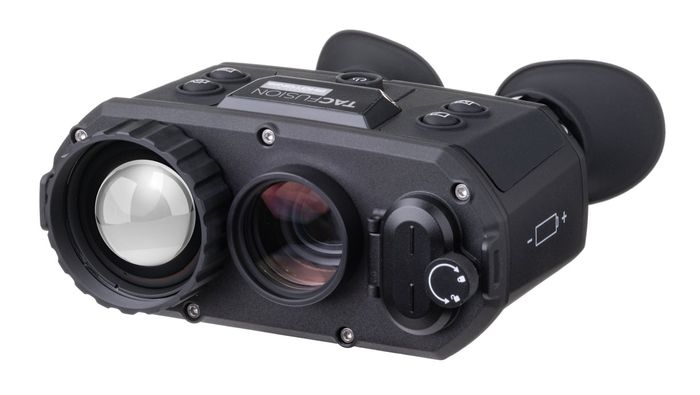 Photonis have launched the new TacFusion, a versatile handheld observational binocular that combines low light camera technology and a thermal imaging sensor to offer advanced thermal imaging, clear night vision and fusion imaging capabilities.
Distributed exclusively by Thomas Jacks Ltd in the UK/Ireland, the TacFusion enables the user to detect objects in any environment or lighting condition, and its multiple view modes and x4 digital zoom facilitate long-range surveillance at distances of up to 3000m.
The TacFusion features several connectivity options, including Wi-Fi and real-time video streaming, meaning users can share with team members exactly what they are seeing through the lens at the time of observation. A built-in still image and video recorder with playback functionality will even allow users to record and store pictures and videos on the 32GB of internal storage. Remote control and video playback can be achieved via the free app available for Android and iOS devices. It also features a MilSpec Video Out Connector for real time streaming to a command centre.
Features: HD format 1280x1024 @ 25 fps Nocturn™ core sensitive to 2 mlux; VGA format 640x512 @ 25fps thermal sensor; NETD <40mK; XGA format 1024x768 full colour, high contrast OLED display; 20° horizontal field of view; Up to 5 hours of battery life from 2 x 18650 rechargeable Lithium batteries; IP67 rated; -30 °C to 55 °C operating temperature; Standard ¼" tripod mount.
The Photonis TacFusion will be on display at the Emergency Services Show 2022. Visit Thomas Jacks Ltd on stand D14 for more information.