30 Jul 2020
R6C helmet is head and shoulders above the rest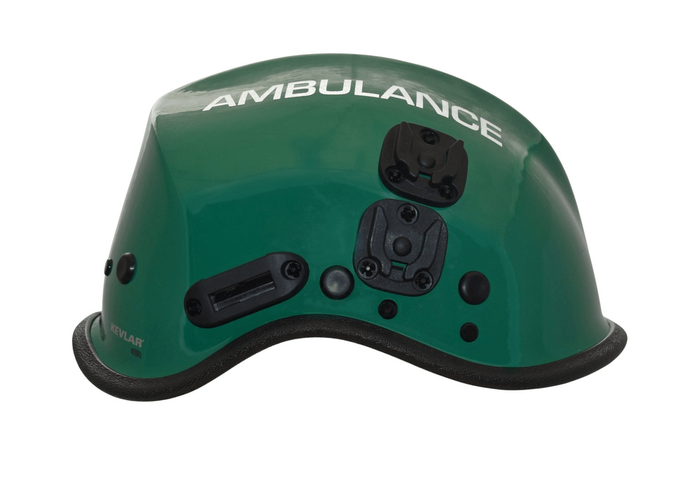 First responders face potential dangers when dispatched to incidents such as road traffic accidents as the risks on arrival at the scene are unknown. The priority is always to ensure any risks of injury to themselves are mitigated before attending to casualties on the scene.
Paramedic and ambulance helmets must allow the emergency responder access to confined spaces so they can use equipment effectively to treat casualties while also offering the comfort and protection the paramedic requires to complete the rescue.
The R6C paramedic and ambulance helmet, manufactured by Pacific Helmets and distributed throughout the UK by Vimpex, represents the most versatile and configurable helmet of its type available. Offering the most up-to-date form of head protection, it is manufactured using a Kevlar reinforced composite shell meaning the strong structure is incredibly durable.
The reinforced materials mean that R6C helmets have less mass than helmets that are manufactured from thermoplastics, offering a lightweight solution to the user who can concentrate on the job at hand rather than neck ache. Options such as adjustable air vents, neck protectors and goggle straps mean that the helmet can be designed to be as versatile as the job is varied.
It is important to reduce risk when carrying out rescue operations. Such dangers might be materials falling or collapsing, thus increasing risk to the paramedic. The R6C helmet provides strong impact protection and a proven shock absorber system, which is fundamental in protecting not just the head but also the neck and spine of the wearer.
The biggest killer of helmets is UV degradation. Thermoplastic helmets can only be guaranteed safe for use for a couple of years. Plastics start to degrade from the first day of use whereas Pacific R6C helmets, with their Kevlar shells and composite construction, last and last.
A six-year warranty is offered on Pacific Helmet shells as Vimpex is confident of the durability, versatility and assurance it provides to the emergency services. Vimpex's Pacific Helmet range ensures that the ambulance services gets the same level of protection as their counterparts from the fire and police service, offering incredible longevity and support.
Vimpex is the exclusive distributor and service partner of Pacific Helmets in the UK and a trusted supplier to many public sector bodies including NHS ambulance trusts, UK fire and rescue and military services.