UAV Streamer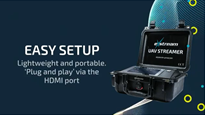 During a complex and evolving incident, real-time footage isn't always accessible beyond the pilot. Excelerate's UAV Streamer resolves this problem by making live video streams more accessible.
By simply plugging the solution in to your existing UAV system, live footage is streamed over public or private networks securely via Excelerate's ExStream Video Application. Footage can then be accessed securely anywhere via any authorised device with an internet connection.
Key Benefits
Easy to setup and operate – the solution connects via an HDMI port directly in to the UAV controller.
Intuitive touch screen interface to easily select streaming, resolution and frame rate options which can be configured to organisational requirements.
Captures and monitors the developing situation in real-time for improved tactical coordination.
Accessible from any authorised device/computer with an internet connection and web browser using secure login and credentials.
Local recording and post incident exporting available.
Inherently secure – the ExStream video streaming service is provided via Excelerate's data centres which are ISO 27001 and national critical infrastructure approved (UK only).
Excelerate's UAV Streamer and ExStream Video Application can add significant value to your existing UAV investment and is currently in use by a number of Emergency Services and Special Operations Teams.