Tait Communications
Stand: N42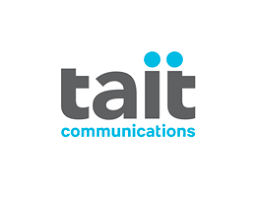 Tait Communications has been providing mission critical communications for more than 50 years. It works with public safety organisations all over the world to design reliable and smart critical communications solutions that help first responders get their job done safely and efficiently. The Tait Unified Solutions portfolio enables the convergence of narrow and broadband technologies, both in the vehicle and on the person.
Address
Buckinghamway Business Park
Swavesey
Cambridgeshire
CB24 4UQ
United Kingdom
Tait CMD is a highly capable and effective dispatch solution for medium and large sized trunked radio systems. Support for MPT and DMR Tier 3 enables a smooth transition from analog to digital.

Tait Mobile Radio TM9300 Series Tait Portable TP9300 Series with different colours and keypad options  Tait Portable TP9500 Series with larger colour screen, exceptional audio with Active Noise Cancel ...
Achieve more with your radio network. The most flexible devices and networks, with smart voice and data applications. TP9500 portables enhance the user experience with a color screen, louder, clearer ...

See how a Tait TP9435 radio performed after being accidentally dropped into the path of a local controlled burn in Panola County, MS.

At Tait, we believe mission-critical organizations are vital to our safety, productivity, and way of life. We help their teams stay connected to essential information through wireless voice and data.
West Sussex FRS' fireground radio equipment had reached its end-of-life. They wanted to take advantage of technological developments to improve the safety of their firefighters and the efficiency of t ...

Fire and Rescue services around the world rely on Tait solutions to keep safe and connected. They work in high-risk environments and face challenges from fires in densely populated cities, bush fires ...