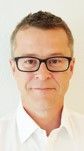 Alex Keene
European Sales and Marketing Manager
,
PVstop
Alex Keene has over 20 years' experience in senior Business Development & Operations roles with a number of high-profile multinational corporations.
Alex has recently transitioned his career focus into renewable energy safety and the fire and emergency services industry, inspired by a pivotal early placement and experience with BP Solar.
As a senior member of the PVSTOP International team, he brings expertise and knowledge developed over 7 years exposure to the mitigation of the risks to life and property posed by Solar PV Systems.