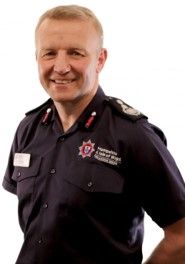 David Wharton
Neil has worked in the British Fire and Rescue Service since 1991 and has served in three Services becoming Chief Fire Officer of Hampshire and Isle of Wight Fire and Rescue Service in January 2018.
Neil has a Masters Degree in Business Administration from the University of Southampton and is a member of the Institute of Directors and a Graduate member of the Institution of Fire Engineers.
Neil is the UK National Fire Chief's Council Chairman for the Prevention Committee, supporting Fire Services across the nation to prevent fires and other emergencies.
Neil is Chairman of the United Kingdom Rescue Organisation (UKRO) which brings together the UKs rescue services to develop their skills and improve rescue standards.
Neil is also a Trustee of the Blue Lamp Trust which was established to promote and enhance community safety across Hampshire and the Isle of Wight.
Most recently Neil has chaired the Strategic Coordinating Group (SCG) in Hampshire and the Isle of Wight ensuring the effective multi agency response to COVID19.