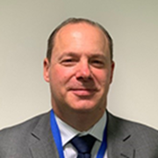 Dr Iain Raphael
Assistant Chief Constable; Director of Public Safety & Risk Portfolio
,
College of Policing
Assistant Chief Constable Iain Raphael, Director of Public Safety and Risk at the College of policing.
Iain is currently responsible for the setting of national Operational Standards in policing. Iain has increased our connection with operational policing, providing increased capacity to anticipate, understand and respond to operational challenges innovatively, and provide timely guidance and advice. The College will develop new ways of operating alongside the National Police Chiefs' Council (NPCC), to help increase consistency and quality of practice, and Iain's role leads that engagement.
Iain has spent his policing career working in London. He has worked in both uniform and detective roles ranging from leading proactive covert operations, overseeing borough and Metropolitan Police Service (MPS) wide crime portfolios and responses and commanding day-to-day policing activities in some of London's busiest boroughs. He was the borough commander for Enfield and most recently the BCU commander for Camden and Islington. He established London's 'Continuous Improvement Teams', authored London's Crime Prevention Strategy and initiated the MetTrace property marking programme the largest in any capital city worldwide. Just prior to joining the College he was the NPCC National Criminal Justice Portfolio Coordinator and sat as the day to day police Gold commander on the Criminal Justice System Strategic Command helping coordinate the national criminal justice response to COVID 19. He continues to be the senior responsible officer leading the New Employment Project; looking at how policing can introduce and be on the leading edge of flexible working practises. He has a Doctorate in Criminal Justice Studies.